Planned Strike in Zimbabwe Fails After Protest Leader Arrested
by , , and
Schools, businesses open normally as police patrol capital

Preacher behind strike call remains in police custody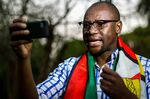 A planned two-day strike in Zimbabwe failed to start Wednesday when schools and businesses opened normally and police deployed throughout the capital, a day after a key protest organizer was arrested and charged with inciting violence.
The government addressed one of the main demands of the strike organizers when it announced that it would pay civil servants their June salaries on Wednesday, a day earlier than planned. The labor action was also called to protest police harassment and the reintroduction of a form of local currency.
Police on Tuesday arrested Evan Mawarire, 39, a baptist preacher and organizer of the #ThisFlag movement, and charged him with inciting violence, after a July 6 strike shut down much of the southern African nation. Police searched Mawarire's home in Harare. He rose to prominence in April when he draped a Zimbabwean flag over his shoulders and recorded a lament on the state of his nation on YouTube.
President Robert Mugabe's administration has faced mounting public unrest as a cash shortage has undermined the government's ability to pay its workers and consumer access to funds to pay their bills. Since abandoning its own currency in 2009 to end hyperinflation, Zimbabwe has used U.S. dollars, as well as South African rand, euros, and British pounds. The government spends about 83 percent of its revenue on wages, according to Finance Minister Patrick Chinamasa.
Traffic from most of the capital's townships was heavy as Zimbabweans headed for work, Kubatana, a human-rights organization monitoring the strike, said in an e-mailed statement. Banks, which mostly closed during last week's labor action, opened as usual.
Zimbabwean Home Affairs Minister Ignatius Chombo warned Zimbabweans late Tuesday that anyone fomenting violence would face "the full wrath of the law."
Before it's here, it's on the Bloomberg Terminal.
LEARN MORE