Traders Hoarding Most Oil Since 2009 Amass North Sea Fleet
By and
Ships holding 9 million barrels of crude idle in North Sea

Traders holding supplies out of necessity, not for profit: IEA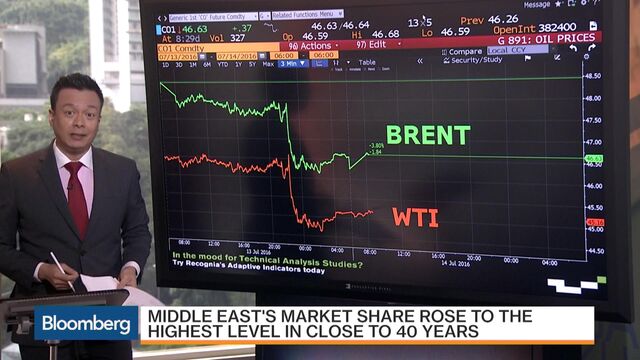 Oil traders increased the fleet of ships deployed in the North Sea to store crude, the latest sign of faltering demand that has triggered the biggest build up of stockpiles at sea since 2009.
Nine tankers holding about 9 million barrels of the major North Sea crude grades are floating off the U.K.'s coast, up from 7 million in May, according to a survey of oil traders and ship-tracking data compiled by Bloomberg. The volume of oil in storage on ships worldwide reached 95 million barrels at the end of June, the highest since the 2008 to 2009 recession gave traders an incentive to hold supplies for later delivery, the International Energy Agency said.
"Unlike 2009 when volumes at sea increased" because oil prices made the activity profitable, "today it is driven by logistical and marketing issues," the Paris-based IEA said in its monthly report Wednesday.
The accumulation of stockpiles shows that even as excess oil production is fading and global markets are re-balancing, the recovery process will be a bumpy ride. The boost in world fuel demand from low prices appears to be fading, with a report from the Energy Information Administration on Wednesday showing gasoline use in the U.S., the biggest oil user, sliding at a time when sales normally surge.
Oil tumbled Wednesday after a government report showed U.S. gasoline inventories unexpectedly grew, adding to concerns about oversupply. Brent futures dropped 4.6 percent to $46.26 a barrel and traded at $46.71 at 7:15 a.m. London time Thursday.
Most of the cargoes floating idle in the North Sea have yet to find buyers and will probably remain where they are for some time because of subdued demand in Europe, according to three traders who asked not to be identified. The cargo in place longest, carried in a supertanker anchored off the east coast of England named Maran Thetis, has been on the water since April 23.
Ian Taylor, the chief executive officer of Vitol Group, the biggest independent oil trader, said in a Bloomberg television interview last week that the contango -- the premium paid on future oil deliveries over current supplies -- isn't wide enough to make stockpiling at sea profitable. Any use of ships for storage now is probably out of necessity amid unloading delays at some ports, he said.