May Moves On From Cameron Era, Overhauling Team for Brexit
by and
Prime minister fires Osborne, names Hammond finance minister

Boris Johnson appointed foreign secretary in surprise move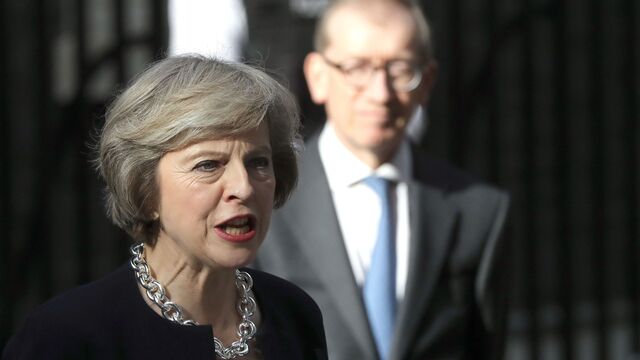 U.K. Prime Minister Theresa May cleared out many of her predecessor David Cameron's senior team as she put her stamp on the government that will oversee Britain's withdrawal from the European Union.
May, who took office less than three weeks after Britons voted to leave the EU, promised a "bold new positive role" for Britain abroad and less "burning injustice" at home, making a pitch for the center-ground of politics where U.K. elections are traditionally won.

Among her first actions, May fired George Osborne, the chief strategist of Cameron's administration and the architect of his flagship austerity policies. She replaced him as finance minister with Philip Hammond, the former foreign secretary.
Prominent conservatives who campaigned to get Britain out of the EU were given the task of seeing the job through, starting with former London Mayor Boris Johnson, who was named foreign secretary, in the day's most surprising move. Working with him will be David Davis, who was assigned the task of overseeing Brexit negotiations, and Liam Fox, who will have to negotiate new trade deals.
"The domestic-facing portfolios are Remain and the outward facing ones are Leave," Steven Fielding, a professor of political history at the University of Nottingham, said by phone. "If the Brexit negotiations don't go as people would like, then it's the Leave people who'll take the blame."

Recession Predicted
Britain's second woman prime minister after Margaret Thatcher, May swept to power in the wake of last month's referendum. Cameron quit after the failure of his Remain campaign, and May's rivals for the top job proceeded to knife each other or drop out, leaving her as the sole candidate.
She must now manage Britain's exit from the 28-nation EU, and possibly a recession too. The looming Brexit has sent a chill through markets and the global business community. The pound has fallen 10 percent in the past three weeks, consumer sentiment has plunged the most since 1994 and companies from Vodafone Group Plc to JPMorgan Chase & Co. say they are considering moving jobs abroad.
Hammond toured television and radio studios on Thursday saying that he will take "whatever measures" are needed to stabilize the British economy, and also met with Bank of England Governor Mark Carney. The bank left the key interest rate at a record low 0.5 percent on Thursday and signaled it's readying stimulus for August.
Gove Sacked
Failed leadership candidate Michael Gove, a longtime adversary of May, was sacked as justice secretary as the premier continued to shape her government. The two publicly fell out over how best to deal with religious extremism in schools in 2014, when Gove was education secretary and May in charge of home affairs. Education Secretary Nicky Morgan and Culture Secretary John Whittingdale also tweeted that they will be leaving their posts.
Justine Greening, the former international development secretary, was appointed to lead the department for education, while Liz Truss, Cameron's environment secretary, was handed Gove's job as Justice Secretary and Lord Chancellor, the first woman to hold the role. Jeremy Hunt, one of the most unpopular figures in Cameron's senior team, kept his job as health secretary.
Brexit Commitment
Within hours of taking office, May spoke with some of the EU leaders who'll be her most important interlocutors in the coming months. German Chancellor Angela Merkel called to wish her luck while French President Francois Hollande reminded the new prime minister that he wants to see Brexit happen quickly.

May "emphasized her commitment to delivering the will of the British people to leave the European Union," her office said. "The Prime Minister explained that we would need some time to prepare for these negotiations and spoke of her hope that these could be conducted in a constructive and positive spirit."
In a sign of how Brexit will dominate the government's priorities, the Foreign Office will be overseen by Johnson, the most prominent of the so-called Brexiteers, while Davis and Fox will both head new departments that will play key roles.
Dipped in Blood

"It doesn't get her out of the responsibility for whatever happens with Brexit, but she's at least dipped their hands in the blood," said Tim Bale, professor of politics at Queen Mary, University of London. "Whatever deal she gets is a deal they'll be associated with."
Davis, a former minister of state for Europe in the 1990s, will now be "Secretary of State for Exiting the European Union." He will help May in deciding when to start the two-year process of withdrawal, and how to reconcile her desire to retain access to the EU's single market with public pressure to curb immigration. Fox, another prominent Euroskeptic, will be secretary of state for international trade.
According to a person familiar with May's appointments, Osborne was told he was no longer wanted. He had angered many Conservative lawmakers with the extent of his campaigning against Brexit.
May doesn't have to go to the polls until 2020, though she could opt to do so earlier, with the opposition Labour Party paralyzed by an internal fight between leader Jeremy Corbyn and his lawmakers.
Life Is Harder
As she addressed the country from Downing Street on Wednesday, the main focus of her speech wasn't Brexit or the economy -- at least, not directly. Instead, she addressed Britons who feel their lives have been made insecure by globalization, and who are increasingly angry with the political class -- a group that encompasses many from the Leave-voting majority.
"If you're from an ordinary working-class family, life is much harder than many people in Westminster realize," May said. "You have a job, but you don't always have job security. You have your own home but you worry about paying the mortgage. If you are one of those families, if you're just managing, I want to address you directly. I know you are working around the clock, I know you're doing your best and I know that sometimes life can be a struggle."
The daughter of a clergyman, she's able to talk about privilege in a way that Cameron, a stockbroker's son and Old Etonian, never could.
"When it comes to taxes we will prioritize not the wealthy, but you," May said, again signaling a departure from Cameron's government, which cut taxes on inheritance. "We won't entrench the advantages of the fortunate few. We will do everything we can to help anybody, whatever your background, to go as far as your talents will take you."
Before it's here, it's on the Bloomberg Terminal.
LEARN MORE