Mesut Ozil's First Club Wants to Borrow Against His Stardom
Fourth-tier Essen trying to raise $333,000 for youth system

New site lets fans invest in teams' potential transfer income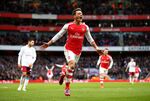 By all reports, Arsenal superstar Mesut Özil is quite happy with his London club. While that's good news for Gunners fans -- the midfielder is one of the world's best -- it's disappointing for Rot-Weiss Essen, the low-level German team that earns hundreds of thousands of euros every time Özil moves.
As Özil's first club, Essen gets what's called a solidarity payment, a small fraction of the amount the player's current club would get from the trade. The money, 5 percent of the overall transfer fee, gets split among the teams the athlete played for between his first professional contract and his 23rd birthday.
Özil's career has taken the playmaker from Germany to Spain to England, and Essen has received almost 1 million euro ($1.1 million) in related payments: 260,000 euros when Özil moved from Werder Bremen to Real Madrid, and another 680,000 when he transferred to Arsenal in 2013.
Now Essen has turned to a new soccer-specific crowd-funding venture to raise money based on solidarity payments it expects to get in the future from the sale of Özil and other former players. Using Munich-based Kickrs, the club has raised more than 21,000 euros from 89 individual investors, who will get paid out with interest if Özil gets traded. If that never happens, investors receive nothing.
Essen's campaign may not succeed. With five days remaining, the club is far short of its goal of 300,000 euros, which it earmarked for investment in its youth academy. If it doesn't hit 50,000 euro, the effort is canceled altogether and backers' pledges are returned.
Even so, Essen's Kickrs campaign is the latest case of smaller soccer teams looking for capital from new sources. Bank loans became prohibitively expensive after the financial crisis, and FIFA in 2015 banned the next-most-popular alternative: selling stakes in players' transfer rights to outside investors, typically multi-million funds with opaque ownership.
FIFA's ruling was a blow to the nearly two-year-old Kickrs, which had originally planned to open up investment in the transfer market to fans. "It would be a very sexy product to give the fans a chance to directly participate in transfers," said Kickrs founder Daniel Hildebrand, a former investment adviser at Morgan Stanley. "This allows us to offer something to the fans and also be compliant with the regulation."
Teams and leagues have found other ways to cash in on future earnings. London-based XXIII Capital issued $73 million worth of bonds backed by media-rights payments and player-transfer fees from clubs in Europe's largest soccer leagues. Vibrac Corp., a closely held company in the British Virgin Islands, has loaned millions of pounds to English teams against their future television income.
The windfall from Özil's solidarity payments has been a lifeline for Essen, which is recovering from a period of severe financial trouble. "It saved our asses," team chairman Michael Welling said in a phone interview. The 680,000 euros the team received from Arsenal in 2013 would have made up more than 10 percent of the club's annual budget. "It really helped us to survive."
Welling says he's still in touch with Özil's father, and he jokingly encourages him to steer his son to Paris Saint-Germain, the big-spending team bankrolled by the Qatari government.
"We say on a jokey basis he has to move on to Paris to develop his personality and his brand," Welling said. "But I think in reality the sporting argument will be decisive."
Before it's here, it's on the Bloomberg Terminal.
LEARN MORE