Line Trades at 15% Above IPO Price in Gray Market Before Debut
By
Mobile-messaging company is largest tech listing in 2016

Investors are reluctant to sell as Japanese shares surge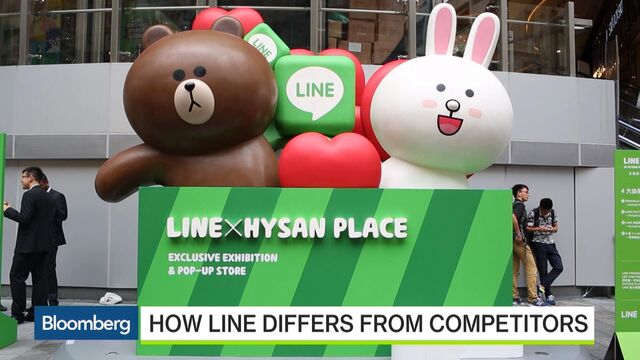 Line Corp. shares are popular in the gray market ahead of this week's trading debut, after the largest initial public offering for a technology company so far in 2016.
Investors were willing to buy shares for 3,800 yen ($36) on Wednesday, 15 percent higher than the IPO price, according to Cantor Fitzgerald & Co. Offers to sell came in above 4,000 yen, the brokerage said. Churchill Capital Ltd.'s Singapore-based sales trader Tom Leske said he's seeing bids at 3,900 yen versus offers at 4,200 yen. Line shares will debut in a dual listing in the U.S. on Thursday and Tokyo Friday.
"We've seen several buyers immediately bid above the issue price," said Howard Keum, Hong Kong-based managing director for Asia equity sales and trading at Cantor Fitzgerald. "Investors have been waiting for this IPO and have put in trying to get shares. We heard most got little or no allocations."
Line, a Japanese mobile-messaging app provider backed by South Korea's Naver Corp., raised $1.3 billion after pricing its offering at the high end of an increased range. Line is selling 40.25 million shares for 3,300 yen apiece. The Nikkei newspaper reported Wednesday that the IPO was almost 25 times oversubscribed. Concerns over the timing of the listing, coming so soon after Britain's Brexit vote roiled markets, are subsiding as Japanese shares surge this week.
"Trying to get sellers in the gray is proving hard after the Japanese elections and the renewed Abenomics and stimulus hopes," Churchill's Leske said. "With the market going up every day, there is no rush to sell" as they expect Line to open strongly on Friday.