Legg Mason's Miller Is Anything But Average as a Money Manager
by
His fund usually winds up near the top or bottom of the pack

This year is proving difficult as airline stocks hurt results
Say this about Bill Miller: he is rarely average.
As the table below illustrates, the Legg Mason Inc. money manager, best known for beating the S&P 500 Index for 15 straight years through 2005 at his Value Trust fund, has a proclivity for being near the top or the bottom of the performance pack.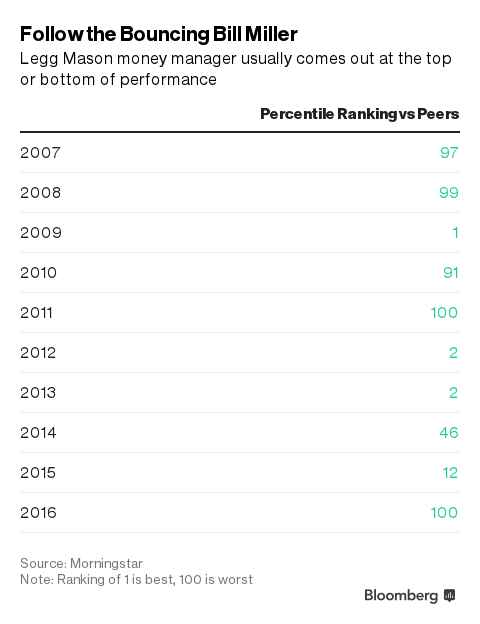 In 2009, 2012 and 2013, his Legg Mason Opportunity Trust beat at least 98 percent of comparable funds, according to Morningstar Inc. In 2007, 2008, and 2011 he trailed at least 97 percent of rivals.
This year he's back to the rear of the mid-cap blend category. The $1.2 billion fund fell 14 percent, dragged down in part by holdings of slumping airline stocks Delta Air Lines Inc., United Continental Holdings Inc. and American Airlines Group Inc.
Miller, 66, said there is an explanation for the swings. The fund looks little like the S&P 500, so his results will often diverge sharply from the benchmark while other managers hew closer to its sector weightings, he said in an e-mail.
Second, he has suffered at times over the past decade -- during the 2007-2008 financial crisis, in 2011 and this year -- when fears of international weakness dragged on the global economy and markets. At such times, Miller said, correlation across equities surges and stock-picking stops working.
"When it is all macro, we do poorly," he wrote. 
When fears subside, as they did after 2011, Miller usually bounces back strongly, and he expects that to happen again as perceived risks of deflation and global recession abate.
"Our results should move back toward the top of the page in the next 12 to 24 months," he said.
Before it's here, it's on the Bloomberg Terminal.
LEARN MORE