Kuwait May Coordinate With Saudis on $20 Billion Bond Clash
by
Finance minister Al-Saleh sees 'huge appetite' for debt sale

Kuwaiti still to appoint banks to manage $9.9 billion sale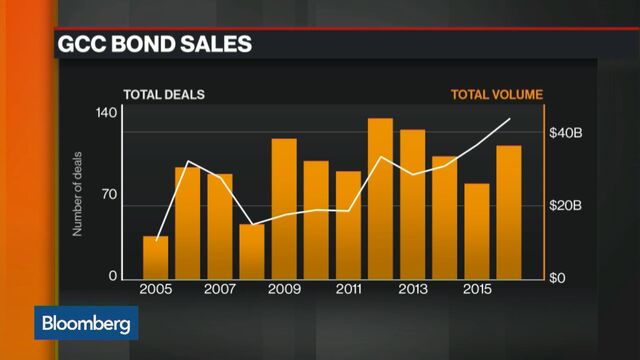 Kuwait is open to liaising with neighboring Saudi Arabia on its planned debt sale as the two OPEC nations prepare to test investor appetite for about $20 billion of bonds.
"If it's required and if our advisers think we should coordinate in terms of timing we would do that,'' Kuwaiti Finance Minister Anas Al-Saleh said in a phone interview Monday, referring to the country's plan to raise as much as $9.9 billion in September. "We have very strong ties.''

The plunge in crude is driving bond sales across the six-nation Gulf block as governments seek to plug budget deficits that the International Monetary Fund says could reach $900 billion by 2021. After Qatar raised a record $9 billion in May and Abu Dhabi $5 billion in April, Saudi Arabia and Kuwait are the next to test investor appetite for Middle Eastern debt after the summer, with Saudi Arabia said to be also seeking at least $10 billion.
"They are competing with each other and even if there is some coordination, at the end of the day each government is trying to raise as much money as possible while interest rates are low,'' said Talal Touqan, head of research at Abu Dhabi-based Al Ramz Capital LLC, a brokerage and investment bank. The surge in issuance comes as "the whole world is suffering from liquidity constraints.''
Hire Banks
Kuwait is aiming to start the international bond sales in September and has still to hire banks to manage the offering, Al-Saleh said. Saudi Arabia has appointed JPMorgan Chase & Co., HSBC Holdings Plc and Citigroup Inc. to arrange its first international bond sale, people with knowledge of the matter said last month, with the timing of the sale likely after the summer, they said.
Only half way into this year and Gulf issuers have already raised $36.25 billion in conventional and Islamic bonds. That compares with about $26 billion raised in all of 2015 and the $33.5 billion sold in 2014, data compiled by Bloomberg shows.
The Kuwait minister said in May that the country had hired consulting firm Oliver Wyman & Co. to set up a debt management office. A special committee with officials from the finance ministry, sovereign wealth fund and central bank will decide on whether to offer Islamic or conventional debt and whether to sell the debt in tranches. Kuwait is also planning to sell as much as 2 billion dinars ($6.6 billion) domestically.
"There is a huge appetite from investors'' for regional debt, the Kuwaiti finance minister said. "We have good ratings, good reserves and good economic reform plans.''
Low oil prices -- which halved from around $100 per barrel in 2014 -- have pummeled the finances of oil-rich nations, prompting reform programs intended to save cash and restructure the economy. Al-Saleh is seeking to cut wasteful spending, reducing utility subsidies, introducing corporate taxes and increasing fees, in common with a similar reform program in Saudi Arabia.
Before it's here, it's on the Bloomberg Terminal.
LEARN MORE