Kerry to Seek Syria Cooperation Pact With Putin on Russia Visit
by and
U.S. seen proposing intelligence-sharing on terrorist targets

Russia urged to press Assad not to bomb rebels keeping truce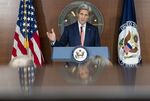 U.S. Secretary of State John Kerry is heading to Russia in pursuit of an agreement with President Vladimir Putin that could change the grim calculus of the five-and-a-half year war in Syria.
Kerry will meet Putin and Foreign Minister Sergei Lavrov in Moscow on Thursday to set out a potential deal to avert an escalation of fighting in the civil war. He'll offer to share military information for targeting Islamic State and the al-Qaeda-affiliated Nusra Front, in return for Russian assurances that Syrian President Bashar al-Assad's forces will stop bombing rebels who've signed up to a cease-fire, according to unidentified U.S officials cited by CNN and the Associated Press.
"The most important thing, frankly, is seeing if we can reach an understanding with the Russians about how to, No. 1, deal with Daesh and al-Nusra," Kerry said last month at the Aspen Ideas Festival in Colorado, using an alternative name for Islamic State. "I think it is possible to create a new paradigm here, and that could really change the game if we're able to."
Aug. 1 Deadline
The talks are taking place just over two weeks before an Aug. 1 deadline set by the Obama administration for a political settlement to be reached in Syria. Negotiations to broker a peace agreement have collapsed amid an upsurge in fighting, particularly around Aleppo, the former commercial capital that's a key rebel bastion. The war, which has killed more than 280,000 people and sent millions fleeing to neighboring countries and Europe, has also allowed Islamic State to seize territory that it's used as a base to stage terror attacks in European cities and elsewhere.
"The situation has reached a dead-end and without U.S.-Russian cooperation it will deteriorate further," said Fyodor Lukyanov, head of the Council on Foreign and Defense Policy, a Moscow-based research group that advises the Kremlin. Russia could agree to a deal on military cooperation "as this is something it's wanted since the start," he said.
Russian military intervention in Syria last September changed the tide of the war in Assad's favor. A U.S.-led alliance is also conducting airstrikes against Islamic State and Nusra in Syria. There's been little coordination between the two military forces other than efforts to avoid accidental targeting of each other's planes.
For a QuickTake explaining the Syria conflict, click here.
Anton Lavrov, an independent Russian military analyst, said he's skeptical about the chances of success for an accord as Islamist rebel groups, in particular the Army of Islam, are in tactical alliance with Nusra, which means that Russia will continue to target them.
While Russia's unwilling to retreat on support for its ally, the U.S. is just hoping "to reduce violence in Syria to a less embarrassing and more manageable level," said Faysal Itani, a fellow at the Atlantic Council in Washington. The risk is that Obama's outreach to Putin will strengthen Nusra by bolstering its credibility "and harm the entire opposition instead," he said.
'Equal Partner'
Reflecting Pentagon opposition to President Barack Obama's initiative, Defense Secretary Ash Carter has little faith that Russia can be trusted to abide by the agreement, CNN cited unidentified defense officials as saying.
The U.S. would detail areas of Syria that Assad's military shouldn't bomb, though it wouldn't give Russia precise locations of rebel groups in those locations, according to the Washington Post, which reported the U.S. plan last month.
"Russia would be delighted to go after Nusra as an equal partner with the United States, both because that boosts Russia's global standing and because attacking Nusra is really attacking the insurgency as a whole, since Nusra is embedded within the insurgency," said Itani.
Russian Foreign Ministry spokesman Maria Zakharova declined to comment on the U.S. proposal, though she said enhanced cooperation in Syria has long been a matter of discussion.
Terrorist Groups
State Department spokesman John Kirby also sidestepped questions about the offer, while saying earlier this week that Kerry's trip will be "an indicator" of the sincerity of Russia's stated commitment to fight Nusra and Islamic State.
"Secretary Kerry really does want to pull off some kind of an agreement with the Russians that compensates for the fact that we are not taking positive, assertive and, if you like, military steps to protect Syrian civilians," said Frederic Hof, director of the Rafik Hariri Center for the Middle East at the Atlantic Council.
"What Kerry is really seized with -- and I think he's absolutely right about this -- is the reality that as long as civilians are on the bull's-eye in military operations, you simply cannot get to productive peace negotiations," said Hof, a former White House special adviser on Syria.
Last month, 51 State Department officials signed a memorandum criticizing the Obama administration's policy on Syria and urging U.S. air strikes on Assad's forces.
Lavrov on Tuesday said the U.S. has failed to carry out its promise to separate rebel groups it supports from Nusra. "This will be one of the main issues we will discuss with John Kerry because it is a commitment the U.S. has entered into," he said in Azerbaijan.
It's likely "the Russians will continue to bomb indiscriminately against forces opposed to Bashar al-Assad regardless of whether they are on the UN terrorism list," said Robert Ford, former U.S. ambassador to Syria who is now a senior fellow at the Middle East Institute in Washington. "I don't see that it will produce the kind of cease-fire that John Kerry is seeking to obtain."
Before it's here, it's on the Bloomberg Terminal.
LEARN MORE