Japan's Largest Lender to Leave Primary Bond Dealer Group
by and
Bank of Tokyo-Mitsubishi UFJ to withdraw on July 15, MOF says

Japan's banks have been cutting bond holdings as yields plunge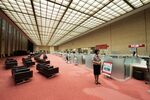 Japan's biggest bank is quitting its role as one of the 22 primary dealers that underwrite auctions of the nation's bonds, the first financial institution to withdraw since the central bank's introduction of negative interest rates this year caused yields to tumble below zero.
Bank of Tokyo-Mitsubishi UFJ Ltd. will leave the group on July 15, the Ministry of Finance said in a statement Wednesday. Parent company Mitsubishi UFJ Financial Group Inc. said the decision was part of a move to optimize the sales and trading businesses of its banking and securities arms.
Japanese banks have been cutting their holdings of government bonds in the three years since the Bank of Japan began buying the securities on an unprecedented scale to defeat deflation. With yields on most sovereign debt now below zero, financial institutions have even less reason to buy the securities in a market that has become less liquid since the BOJ stepped up bond purchases.
"Negative yields on JGBs place a penalty on buying bonds as an investment instrument so it's only natural that BTMU would withdraw," said Masaru Hamasaki, head of the investment information department at Amundi Japan Ltd. "I think other banks will follow."

The bank will consolidate the primary dealer function within Mitsubishi UFJ Morgan Stanley Securities Co., a unit of MUFG's securities holding company, according to a statement. MUFG will continue to play a "significant role" in achieving stability of the JGB primary and secondary markets, and Bank of Tokyo-Mitsubishi UFJ will maintain "ample holdings" of the securities, the company said.
The bank's decision was in the works before the negative-rate policy was introduced, Managing Executive Officer Kazuto Uchida said at a briefing in Tokyo.
Sumitomo Mitsui Banking Corp. said in June that it has no intention of following its larger rival and Mizuho Bank Ltd. said it hasn't decided anything.
For a QuickTake explainer on negative interest rates, click here.
Chief Cabinet Secretary Yoshihide Suga said Bank of Tokyo-Mitsubishi UFJ's withdrawal was a commercial decision of an individual company. The government wants to manage its bond policy appropriately while monitoring market moves and maintaining a close dialogue with the market, he told reporters in Tokyo.
Vocal Critic
MUFG President Nobuyuki Hirano has been among the most vocal critics of BOJ Governor Haruhiko Kuroda's negative-rate policy, saying in an April speech that it is crimping interest income and denting confidence. An index of Japanese bank shares is the worst-performing industry group on the benchmark Topix this year.
A gauge of price volatility for Japanese government bonds climbed to the highest in more than a decade in April. The central bank has to buy the equivalent of more than 90 percent of newly issued bonds this year as part of its easing program. It held 34 percent of the nation's bonds at the end of March, BOJ data show.
The primary dealership was formed by the Finance Ministry in 2004 to improve the liquidity and stability of the government bond market. Royal Bank of Scotland Group Plc withdrew in 2014 as it closed its trading business in Japan as part of a global business overhaul. 
Primary dealers are entitled to exchange opinions with ministry officials in return for an obligation to bid for and purchase a certain amount of bonds at each auction. The U.S. and European nations operate similar systems.
Before it's here, it's on the Bloomberg Terminal.
LEARN MORE