Japan Cuts Forecasts as Abe Advisers Urge Coordinated Stimulus
By , , and
Government is said to consider 10 trillion yen fiscal package

GDP estimate slashed to 0.9% from 1.7%, CPI to 0.4% from 1.2%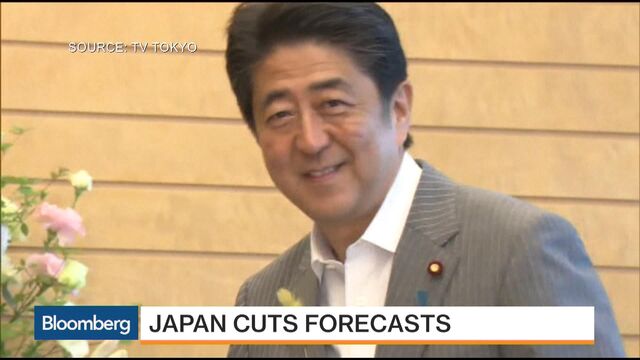 Japan cut its forecasts for growth and inflation as two key advisers to Prime Minister Shinzo Abe urged coordinated stimulus from the government and the central bank to support the ailing economy.
Current thinking in the government is for a fiscal package of about 10 trillion yen ($96 billion), according to people familiar with the discussions. Koichi Hamada and Etsuro Honda, who helped the prime minister shape his Abenomics policies, said in separate interviews on Wednesday that any fiscal injection should be done in concert with a boost in monetary policy from the Bank of Japan, which meets later this month.
Hamada played down the likelihood of Japan employing so-called "helicopter money," warning this strategy would be a "very risky gamble" as history has shown the dangers of unstoppable inflation. Japanese stocks have rallied this week while the yen has weakened amid intense speculation about the size of the fiscal package and the possibility that the central bank could turn to unorthodox policies like helicopter money.
Bond Purchases
Honda said that the central bank should accelerate its already unprecedented government bond purchases rather than further reduce negative interest rates. He advocated action at the BOJ's July 28-29 policy meeting and said options also include further purchases of exchange-traded funds and an expansion into regional government bonds. If the BOJ doesn't act, the yen may strengthen, he added.
The Sankei newspaper reported earlier that officials around Abe are considering helicopter money as a policy option. Chief Cabinet Secretary Yoshihide Suga told reporters later this is not the case.
For a QuickTake explainer on helicopter money, click here
Japan's gross domestic product will expand by just 0.9 percent in the fiscal year that started in April, compared with a January estimate of 1.7 percent, the Cabinet Office said. The consumer price index will rise 0.4 percent, compared with an earlier projection of 1.2 percent, it said.
These latest figures come as the yen's gains in 2016 have undermined exporters while demand at home remains weak, given stagnant wages and pessimism about the economic outlook.
Election Win
Following an election over the weekend in which the ruling party and its coalition partner expanded their majority in parliament's upper house, Abe has ordered his ministers to compile a fiscal spending package.
Abe, Hamada and other key government officials on Tuesday met former Federal Reserve chairman Ben S. Bernanke and discussed the Japanese economy. Abe told Bernanke he wants to speed up the nation's exit from deflation, underscoring his commitment to implementing fresh economic stimulus. Hamada said there had been no discussion of helicopter money at the meeting.
Despite this week's rally in stocks, Hamada said Japanese shares have been sold below their fundamental value. He said Japanese investors, not the central bank, have shown cowardice.
Hamada said that while he's not sure what the BOJ will do at its next gathering, it doesn't need to worry about volatile oil prices. Inflation excluding fresh food and oil has reached about 1 percent, he said.