business
Bernanke Visit Sees Bond Market Shrug Off Helicopter Money Calls
By and
Bernanke told Abe fiscal stimulus should complement BOJ easing

Mitsubishi UFJ, Daiwa see no need for MOF to boost debt supply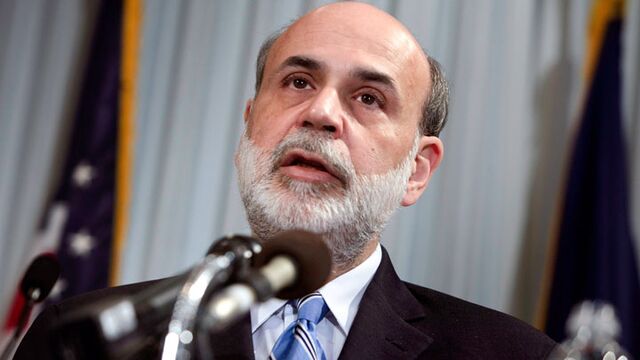 When the man known as Helicopter Ben drops in for talks with Japan's prime minister and central bank chief, investors may be forgiven for jumping to conclusions.
Yet leading brokerages say it would be premature to start scanning the sky for a fleet of choppers dropping yen. Officials on Wednesday denied a Sankei newspaper report that they're considering the policy known as helicopter money -- direct financing of government spending by the central bank.
The yen is heading for its worst week since 1999 versus the dollar as former Federal Reserve chief Ben Bernanke's meetings with Japanese officials spurred speculation that further extraordinary measures were on the table. Bernanke told Prime Minister Shinzo Abe at a meeting in Tokyo on Tuesday that the BOJ has scope to expand stimulus, and that fiscal policy should supplement monetary easing. Mitsubishi UFJ Morgan Stanley Securities Co. and Daiwa Securities Co. say fiscal stimulus plans don't require expanding the pool of sovereign debt, while JPMorgan Chase & Co. said it may cut its initial projection for a 20 trillion yen ($192 billion) stimulus budget.
'Scavenge for Yield'
"The government is not in a situation where it would need to increase issuance, and even if it did, it wouldn't be big enough to have an effect on bond market liquidity," said Naomi Muguruma, a senior market economist at Mitsubishi UFJ Morgan Stanley in Tokyo. "Domestic investors will still be forced to scavenge for yield."
The tight supply conditions after the central bank cornered a record one-third of the market have helped drive even the yield on 20-year securities below zero for the first time last week.
BOJ Governor Haruhiko Kuroda, who met Bernanke for lunch Monday, has not given any indication of a change in course on policy. He has ruled out helicopter money in comments this year, citing legal hurdles.

The Nikkei reported Monday that the fiscal package would be in excess of 10 trillion yen, and may require the first new Japanese government bond issuance in four years, after Abe reiterated a pledge for "bold" and "comprehensive" stimulus at the weekend.
Abenomics has stalled in the past year, as Japanese stocks tumbled from an eight-year high and the yen rallied from a 13-year low to the dollar. A closely watched gauge of inflation dropped 0.4 percent in May, the biggest decline since April 2013, when Kuroda launched his stimulus program. The BOJ's target is 2 percent.
For a QuickTake explainer on helicopter money, click here.
JPMorgan's chief Japan economist, Masaaki Kanno, wrote in a research note dated July 12 that he will "revisit" his projection for 20 trillion yen of fiscal stimulus, seeing limited scope for non-public works spending after Economy Minister Nobuteru Ishihara said the government is likely to issue construction bonds rather than deficit bonds.
Daiwa Securities wrote to clients that its 8 trillion yen stimulus estimate won't require new JGB issuance, while the brokerage's chief currency analyst, Yuji Kameoka, said in an interview that helicopter money would harm the credibility of bonds and the yen.
'Risky Gamble'
Helicopter money would be a "very risky gamble," said Koichi Hamada, a key economic adviser to Abe, noting that history has shown the dangers of unstoppable inflation. He said Japan needs to keep various policy options open, including coordinated action by the government and central bank.
Speculation that Kuroda will expand monetary easing at a two-day policy meeting ending July 29 has gathered pace since a month ago, when a large majority of economists surveyed by Bloomberg already predicted action by the end of this month.
Etsuro Honda, who has emerged as a matchmaker for Abe in corralling foreign economic experts to offer policy guidance, said that during an hour-long discussion with Bernanke in April he warned there was a risk Japan at any time could return to deflation. He noted that helicopter money -- in which the government issues non-marketable perpetual bonds with no maturity date and the BOJ directly buys them -- could work as the strongest tool to overcome deflation, according to Honda. Bernanke noted it was an option, he said.
Kuroda's Track Record
Kuroda's disavowal of helicopter money is no guarantee he won't pursue the policy. He also said the monetary authority shouldn't implement negative interest rates a month before stunning markets by introducing the policy in January.
It's that policy which has accelerated the drop in domestic bond yields to where almost 90 percent of the market is now sub-zero. That on the 10-year note was minus 0.26 percent on Thursday in Tokyo, after dipping to a record minus 0.3 percent last week.
"The question is whether there will be enough new issuance from the fiscal package to ease the supply-demand crunch," said Jun Fukashiro, a senior fund manager in Tokyo at Sumitomo Mitsui Asset Management. "The answer is still unclear, but it's a source of both hope and anxiety for the market."
Before it's here, it's on the Bloomberg Terminal.
LEARN MORE