business
Hammond Named U.K. Chancellor as Economy Suffers Brexit Fallout
By
Foreign secretary since 2014, known as 'Box Office Phil'

Tasked with defending London's status as global financial hub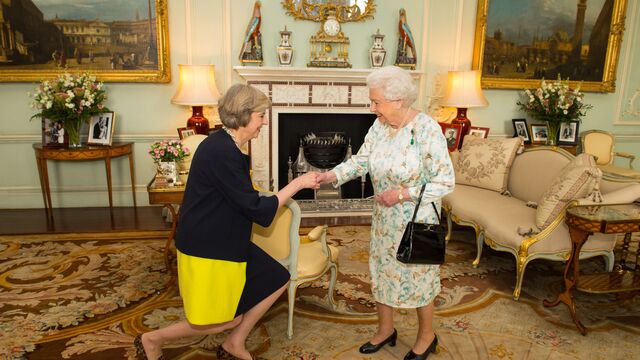 Philip Hammond was appointed the U.K.'s Chancellor of the Exchequer, tasked with the job of protecting the economy from the fallout of Brexit and meeting new prime minister Theresa May's pledge to tackle "burning injustice" in society.
Foreign minister for the past two years, the 60-year-old takes over from George Osborne with the pound trading at its weakest against the dollar in three decades and companies from Vodafone Group Plc to JPMorgan Chase & Co. threatening to move jobs abroad after last month's vote to leave the European Union. Osborne was told by May he was no longer wanted in government, according to a person familiar with the matter.

Hammond must now decide how best to stimulate an economy already at risk of sliding into recession while quelling voters' frustration following six years of Osborne's austerity-driven policies. He will also need to defend London's status as a global financial hub and work with May's Brexit team to make sure the U.K. maintains access to the EU's single market.
His challenge will be made easier by May's pledge to abandon Osborne's goal of achieving a budget surplus by 2020 and by Bank of England Governor Mark Carney promise to support the economy. The majority of economists surveyed by Bloomberg expect the central bank to cut its key interest rate in half to 0.25 percent on Thursday.
The chancellor "is going to be very important because not only do we have to renegotiate our relationship with the EU, but the economy is weakening and likely heading into a recession," said Rupert Harrison, a former adviser to Osborne now at BlackRock Inc.
'Box Office Phil'

Osborne said on Twitter that serving as chancellor had "been a privilege" and that "others will judge -- I hope I've left the economy in a better state than I found it in." Effectively co-prime minister with Cameron, he angered many Conservatives with the extent of his campaigning against Brexit and many voters with his austerity.
Hammond, known sarcastically by broadcasters as "Box Office Phil" because interviews with him rarely yield major stories, was the bookmakers' favorite to succeed Osborne, given the need for the new government to convey a message of calm to investors and executives.
He's "not particularly inspiring, but a safe choice," said Tim Bale, professor of politics at Queen Mary University of London.
Like May, Hammond is skeptical of the EU, yet ultimately decided to campaign to stay within the bloc. He estimated this week it could take six years for the U.K. to break from the EU and then establish new ties.
A constant in all of former Prime Minister David Cameron's Cabinets since 2010, he was first in charge of transport and then defense. He has some knowledge of economic matters from working in Cameron's finance team in opposition from 2007 to 2010. He lost out on working in the Treasury after the inconclusive election result of 2010, which forced his Conservative Party into a coalition with the Liberal Democrats.
'Around the Clock'

Osborne's austerity drive is now being at least partially ditched after it contributed to the anti-establishment mood that drove the "Leave" campaign to victory. Addressing the nation outside her new Downing Street residence, May stressed she will work especially hard for families who are only "just managing," a tacit acknowledgment that years of budget cuts have alienated many.
"I know you are working around the clock, I know you're doing your best and I know that sometimes life can be a struggle," she said minutes after becoming prime minister. "The government I lead will be driven, not by the interests of the privileged few but by yours. When it comes to taxes, we will prioritize not the wealthy, but you."
The economy may need aiding anyway, with almost three quarters of economists polled by Bloomberg saying it is bound for recession. Business confidence has already plunged following the referendum.
As for the U.K.'s finance industry, which employs more than 2 million people and generated 66 billion pounds ($87 billion) in tax last year, Hammond will be under pressure to defend it in Brexit negotiations as other governments try to lure business away.
Addressing a meeting of the British Bankers' Association on Tuesday, he said he'll aim to retain so-called passporting rights which allow companies to locate in the U.K. yet sell their services elsewhere in the region. Failure to maintain a similar relationship will cost Britain jobs, according to executives from banks including JPMorgan and UBS Group AG.
Deep Reform
The "financial services industry is probably the most directly affected" by Brexit, Hammond said. "I know and understand the importance of passporting."
Another challenge for him is to help craft the "deep economic reform" May spoke of this week as she chided Cameron and Osborne for failing to generate faster productivity growth. She proposed the government should back more bonds for new infrastructure projects.
Prior to entering parliament in 1997, Hammond worked in the medical equipment manufacturing industry and as a director of a home building company. He also worked as a consultant for the World Bank in Latin America.
In government, he allowed women to serve for the first time on Royal Navy submarines and plugged a 38 billion-pound hole in the defense budget, in the process overseeing a series of cuts in the size of the country's armed forces.
— With assistance by Thomas Penny
(
Updates with details on Osborne in second and sixth paragraphs.
)
Before it's here, it's on the Bloomberg Terminal.
LEARN MORE