Germany's Bonds Rise as 10-Year Debt Sale Draws Negative Yield
by
Benchmark bund priced to offer negative yield for first time

Yield starvation is causing 'mass psychosis': Gundlach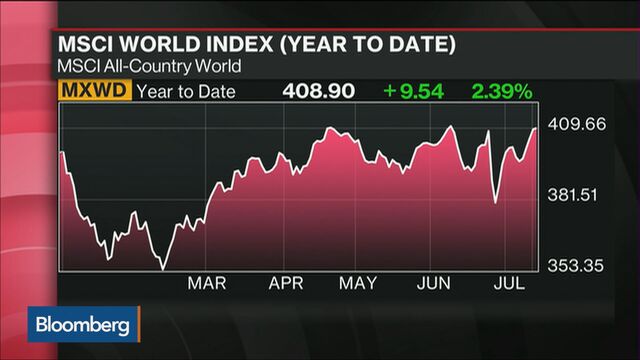 Germany's government bonds rose, halting a two-day decline, as the nation auctioned 10-year debt with a negative yield for the first time.
The country's finance agency allotted 4.038 billion euros ($4.5 billion) of zero-coupon bunds maturing in August 2026 at an average yield of minus 0.05 percent. This means that investors who buy the bonds now and hold until maturity will receive less money than they paid. 

Bids totaled 4.783 billion euros, compared with the target amount of 5 billion euros. Even so, the sale shows that as market conditions deteriorate amid concerns over the health of Italy's banking sector and Britain's vote to leave the European Union, some investors are choosing the safety of higher-rated sovereign debt over returns.
In another sign of investor demand for havens, Switzerland sold bonds due in May 2058 at an average yield of minus 0.023 percent.
Around 38 percent of the $25.3 trillion of securities that comprise the Bloomberg Global Developed Sovereign Bond Index have yields that are below zero. Yield starvation is creating a "mass psychosis," according to Jeffrey Gundlach, chief executive officer of DoubleLine Capital, whose firm manages $102 billion.
With market stress starting to ease, the demand for bonds at such low yields could suffer, according to Daniel Lenz, a market strategist at DZ Bank AG in Frankfurt.
'Not Attractive'
"We think demand could be rather low because of the market environment," Lenz said before the auction. "Ten-year bund yields below zero percent is of course not attractive for real money investors. Safety could be a key argument" to buy these bonds.
The yield on Germany's 0.5 percent bund due in February 2026 fell six basis points, or 0.06 percentage point, to minus 0.148 percent as of 4:07 p.m. London time. The price rose 0.57, or 5.70 euros per 1,000-euro face amount, to 106.265. The yield climbed eight basis points Tuesday, the biggest increase since April 21.
Before it's here, it's on the Bloomberg Terminal.
LEARN MORE