Photographer: Deutsches Weininstitut
Drinks
German Pinot Noir Is the Buzzy Alternative to Pricey Burgundy
That is, if importers can keep it in stock.
By
It's called spätburgunder in Germany. But just think of it as pinot noir with an umlaut.
If you're picturing Germany as a place where only whites, especially rieslings, thrive, you've got it all wrong. Deutschland happens to be the third largest producer of pinot noir in the world—way ahead of trendy New World spots Oregon and New Zealand.
Now that prices are skyrocketing for the reds from hail-torn Burgundy, can those spätburgunders make their mark as a serious pinot alternative? Wine world buzz says yes.
They've crept onto some of New York's best and hippest wine lists, at Michelin-starred places like Gramercy Tavern and Eleven Madison Park, last year's winner of the world's best wine list. Local importer Lyle Fass, who sells his finds direct to consumers, says his sales of German pinots are up more than 300 percent over the previous 12 months.

I realized it was time to reset my inner pinot compass after tasting about 25 top examples over the past month. I was blown away by the best wines' rose petal and spice aromas, cool minerality, silky textures, and unique savory flavors. (Those are the kind of wine words I usually reserve for the Cote d'Or.) At $16 to $17, the basic everyday bottles are a better buy than many a Bourgogne Rouge, which usually hit near $30, and the best single vineyard bottles compare with premier cru Burgundies.
So why have these terrific reds been so under-the-radar?
Well, until a decade or so ago many of them were pretty ghastly, lean and mean, with the green pepper aromas you get in wines made from unripe grapes. Only in the past decade and a half has overall quality been rising, partly helped by planting better clones, using better barrels, cutting yields, and adapting winemaking techniques the globe-trotting younger generation learned in places like Burgundy, and partly helped by climate change.

Global warming has actually been good to German viticulture. Pinot noir vines are notoriously finicky; they ripen best where it's cool but not too cool, within a narrow range of average growing season temperatures, from 57 to 61 degrees Fahrenheit. By 2030, Oregon and Burgundy will be at the upper limit of that. Germany, farther north of the equator, used to be too cold for pinot grapes to ripen every year, but with average temperatures up 1.4 degrees centigrade over the past 40 years, it's now edging into the sweet spot.
Spätburgunder has a centuries-long history there, especially in the warmer southwest region of Baden just a short drive from Alsace, explains importer Rudi Wiest, who's been banging the drum for these wines for years. Some Baden pinots from the 19th century had excellent reputations, and a few made by top producers in 1940s, '50s, and '60s are still alive today.


Yet in the 20th century few winemakers gave the grape much respect. How to make red wine wasn't even taught at in university wine programs—which explains why some winemakers made the mistake of aging them too long in oak barrels in the late 1990s. Their wines had unpleasantly sharp, oaky flavors. A handful of stubborn pioneers took the grape's rehabilitation seriously and toiled away making superb bottles by trial and error in warmer microclimates, while waiting for others to follow their lead and for the wines to be discovered by wine lovers outside Germany. Between 1990 and 2011 vineyard plantings of pinot doubled. 
When a grand cru single vineyard German pinot noir from Meyer-Nakel winery won the International Trophy for Pinot Noir at the 2008 Decanter World Wine Awards, the wine world came looking.
Young talented winemakers entered the pinot sweepstakes, expanding vineyards into other regions, like the Ahr, Franconia, and the Pfalz, which are further north. The reds (and spätburgunder rosés) have been winning medals and competitions ever since.

An audience of wine lovers ready to experiment helped kick up awareness of the category, though importers and retailers in the U.S. find putting the words 'pinot noir' on the labels is essential for those drinkers with deep fears of gothic script and long German names. As Stephen Bitterolf of importer Vom Boden puts it, "The serious wine people are being priced out of the Burgundy market by the Masters of the Universe, so they're looking beyond to anywhere that can deliver pinots with elegance that aren't "silly-priced." Germany, he says, is now where you can find them.
There's only one problem: Importers say the wines are so popular in Germany there's not a lot of the best to go around. But lucky for you, these bottles below have made it Stateside.
German Pinot Noir Bottle Buying Guide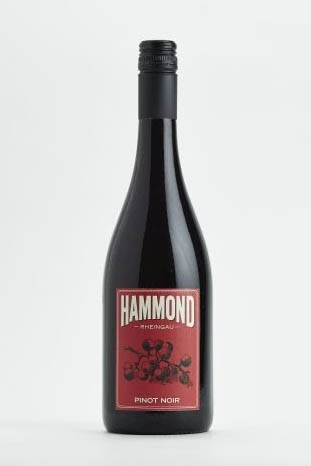 2013 Anthony Hammond Pinot Noir ($17)
Pale-colored, like a light Bourgogne Rouge, this fruit-driven wine from the banks of the Rhine is a perfect casual summer sipper, with a taste of dark red berries. 
2012 Weingut Friedrich Becker Estate Pinot Noir ($20)
The rich, deep, full-bodied pinot from the Pfalz region is filled with ripe dark fruit. Becker, one of Germany's best pinot producers, ages his pinots in casks previously used by Romanée-Conti. friedrichbecker.de
2013 Weingut Rudolf Furst Tradition Spatburgunder ($30)
Rudolf's son, Paul spent years working in Burgundy and pushed the winery's style toward elegance. Savory and smooth, this basic bottling is filled with fruit and spice and their hard-to-find, expensive single vineyard pinots are among the finest in Germany. weingut-rudolf-fuerst.de
2012 Salwey Estate Kasleberg Pinot Noir ($30)
Pinot is the specialty at this historic family estate in Baden, Germany's warmest region, where the vines are grown on a sunny plateau atop an extinct volcano. This single vineyard pinot is notably smoky and elegant. salwey.de
2014 Enderle & Moll Liaison Pinot Noir ($33)
A bright, smooth, delicious red from two old vine vineyards, it's one of the pinots that created the estate's reputation. It features layers of deep dark fruit. enderle-moll.de

2014 Meyer-Nakel Spatburgunder Blauschiefer ($50)
This winery pioneered quality pinot in the Ahr region. Named after the blue slate soil, this bottling reminds me of a premier cru Volnay from Burgundy, with a silky texture and rich cherry flavors. The estate also makes rare grands crus wines ($85 to $150) worth splashing out big bucks for. meyer-naekel.de
2014 Schlossgut Diel Cuvee Caroline ($60)
Spicy, sleek, sophisticated and polished, this pinot is named for the winemaker Caroline Diel, whose family owns the estate. Try her luscious pinot-based 2015 Rosé de Diel, too. diel.eu
2013 Weingut Keller Spatburgunder Dalsheimer Burgel ($95)
Klaus-Peter Keller is a cult producer for his rieslings, but this pinot from a single grand cru vineyard has the same dazzling precision, intensity, depth and complexity. keller-wein.de
Before it's here, it's on the Bloomberg Terminal.
LEARN MORE