Ex-BSI Asia CEO Sues Bank Over Bonus Amid Prosecutors' Scrutiny
by
Brunner says bank has no legal basis to freeze deferred bonus

BSI set to lose Singapore license over control lapses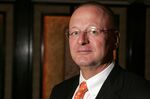 Hanspeter Brunner, BSI SA's former Asia chief who's under scrutiny from Singapore prosecutors over the bank's ties with a Malaysian state firm, has sued the Swiss private bank after his bonus was frozen.
Brunner's lawsuit alleges that BSI's Singapore unit breached bonus agreements and a separation pact with him, according to documents filed on July 4 in the Singapore High Court. There is no legal basis for BSI to suspend the payment for deferred bonuses due last month, Brunner said in his complaint.
Brunner is among six BSI bankers referred to prosecutors in the Asian city after its regulator said in May the bank would lose its license in "the worst case of control lapses and gross misconduct" in Singapore's financial sector.
Among BSI's major clients was 1Malaysia Development Bhd., a subject of money laundering and embezzlement investigations in at least half a dozen countries. A former BSI wealth planner in Singapore became the first banker to be charged in the global probes. 1MDB has denied any wrongdoing. Brunner hasn't been charged.
BSI spokesman Luciano Crobu declined to comment on the lawsuit, as did Brunner's lawyers Ng Lip Chih and Jennifer Sia.
BSI and Swiss national Brunner "mutually agreed" in September that he would retire from the bank, according to court papers. In March, a separation agreement laying out his entitled payments, including deferred bonuses for 2012-2014, was inked and the bank announced his retirement. Brunner sued after BSI wrote to the 64 year-old on June 24, saying it would freeze a payment of S$722,800 ($536,400). He said in court papers the bank is also "intending to renege on all of its other payment obligations" totaling $1 million, scheduled to be paid through June 2018.
Brunner joined BSI in 2009 from RBS Coutts with about 70 colleagues. Coutts and Brunner traded lawsuits after his departure, the bank suing in Singapore for the return of an advance bonus while Brunner claimed in a Zurich complaint that he was wrongfully fired. The firm later settled its lawsuit, according to Singapore court records.
The case is Hans Peter Brunner v BSI Bank Ltd, S702/2016. Singapore High Court.
Before it's here, it's on the Bloomberg Terminal.
LEARN MORE