EgyptAir to Extend Fleet Revamp in Aftermath of Fatal Crash
By
Mideast carrier revealed as buyer for nine Boeing 737s

CEO to seek more planes spanning regional jets to wide-bodies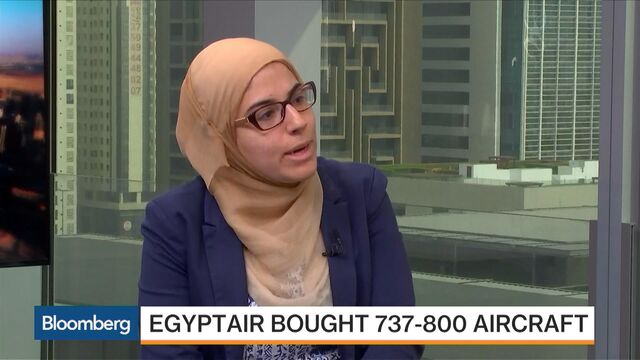 EgyptAir, seeking to overcome slumping tourist numbers and the impact of a fatal jetliner crash, revealed an order for nine Boeing Co. single-aisle jets and said it plans to buy more planes to aid its recovery.
The Mideast carrier, disclosed as the buyer of the 737-800 aircraft valued at $864 million and entered into Boeing's books some months ago, is looking to add aircraft spanning regional jets to the latest wide-body models, Safwat Al Musallam, chairman and chief executive officer of its holding company, said in a phone interview Wednesday from the Farnborough Air Show.
Under consideration are the re-engined Boeing 737 Max and Airbus Group SE A320neo narrow-bodies, the twin-aisle 787 and A330, and the Bombardier Inc. C Series and Embraer SA 195 regional jets, Al Musallam said, adding that EgyptAir must take steps to move on from the May 19 crash.
"We want to focus on the future," he said. "What happened has happened. We are targeting better service and better aircraft."
EgyptAir aims to issue a request for proposals for the new planes next month and to expand the fleet to 105 aircraft by 2021 and 150 by 2025, Al Musallam said. Funds may come from Egyptian banks, export credit or deals with lessors such as Dubai Aerospace Enterprise, which will finance eight of the 737-800s.
Occupancy Levels
Those aircraft will begin arriving in December and will be used for the "urgent" replacement of older planes. EgyptAir currently operates a mix of planes including 20 737-800s together with A320s and Airbus A330s and A340s alongside Boeing 777s.
While tourist travel declined with the start of the so-called Arab Spring and suffered further blows with the suspected bombing of a Russian jet over Sinai last year, a hijacking scare on an EgyptAir plane in March and the loss of flight MS804, demand remains relatively robust, Al Musallam said.
Load factors, a measure of occupancy levels, averaged 70 percent in the fiscal year through June, compared with 72 percent in the previous 12 months, and the airline attracted 9 million passengers, up from 8.6 million previously.
Under a restructuring plan devised with U.S. consultants Sabre, the unprofitable airline is targeting 25 new destinations in Africa, Europe and the Middle East and "could break even within five years," the CEO said.
An investigation into May's crash is continuing to examine what caused smoke recorded on the destroyed Airbus A320's flight-data recorder, Al Musallam said, adding that "all options are open," with neither terrorism nor a systems failure ruled out.