Carney Opens Lehman Playbook at Bank of England
by , , and
BOE to decide on rates Wednesday with announcement Thursday

Most economists forecast benchmark rate will be cut to 0.25%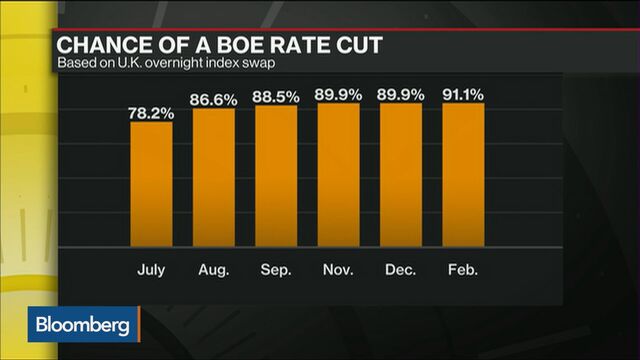 Mark Carney looks poised to repeat a strategy that served him well during the global financial crisis.
As the Bank of England governor seeks to stave off any turmoil after Britain's decision to quit the European Union, he has cited his experience at Canada's central bank in 2008 as a guide. Acting early to prevent a deeper downturn became the hallmark of his approach in the prelude to the international slump, a perspective he can bring to the Monetary Policy Committee's debate this week on whether to cut interest rates.
"One thing Carney is very good at doing is jumping ahead of the curve," said James Rossiter, an economist at TD Securities in London and a former official at the both the British and Canadian central banks. "As governor of the Bank of Canada, he was cutting rates dramatically before Lehman went bust. To have that sort of foresight, to know this was going to be a bigger issue than perhaps the markets were appreciating, and to go forth on a clear easing strategy, is something that we could see him repeating."

With Brexit roiling currency markets before a 2.6 percent rally in the pound this week, confidence gauges diving and Carney warning of a "material slowdown," economists and investors see more stimulus on the way. The governor is still at the vanguard of Britain's response as the government remains sidetracked by a change of leadership in the ruling Conservative Party.
Being Candid
On Wednesday -- the day the U.K. is set to get a new prime minister in Theresa May -- BOE policy makers will vote on whether to reduce the key rate for the first time since 2009. Carney also held a breakfast meeting with Scotland's First Minister Nicola Sturgeon, according to the BBC, and is also meeting U.S. Treasury Secretary Jacob J. Lew.
The rate decision will be announced at noon London time on Thursday. Thirty of 54 economists surveyed by Bloomberg predict a cut, with the majority of those seeing a reduction to a record-low 0.25 percent.
Ironically, Carney's old employer, the Bank of Canada, announced its monetary policy decision Wednesday, keeping the rate on overnight loans at 0.5 percent. Policy makers led by Governor Stephen Poloz said that "fundamentals remain in place for a pickup in growth" and that Brexit will reduce output by 0.1 percent in Canada and 0.2 percent globally by the end of 2018.
Carney said shortly after the referendum that easing will probably be needed this summer, meaning the focus now is on whether officials act this week or wait until their Aug. 4 meeting. The advantage of the later date is that the BOE will publish new forecasts in the quarterly Inflation Report and the governor is due to hold a press conference.
Canadian Experience
Still, as the only MPC member with direct experience of cutting rates in a crisis and the only one to have expressed a monetary-policy view since the Brexit vote, Carney seems clear that the best strategy is to be candid.
At his first meeting as Bank of Canada governor in March 2008, he oversaw a 50 basis point rate cut to 3.5 percent and went on to slash the key rate to 0.25 percent by mid 2009. His willingness to seize the initiative was credited with helping his homeland survive the financial crisis in relatively good shape.
"I was a central-bank governor through the 2008 financial crisis; you have to come straight with people about where the risks are and then have a clear plan to address them," he told U.K. lawmakers in London on Tuesday. "You can't govern by assertion, you can't wish things away. That way perpetuates a financial crisis. It reinforces it."
Data Watch
The views of his eight colleagues on the BOE's rate-setting panel are less clear. Chief Economist Andy Haldane and policy maker Gertjan Vlieghe may be minded to vote for a cut, having indicated a willingness in the past.
Others may prefer to wait for more data. The Office for National Statistics says the impact of Brexit won't be visible in hard economic figures until mid-August. Even so, a gauge of consumer confidence dropping at the fastest pace in 21 years, the pound sinking to the weakest against the dollar since 1985 and the freezing of multiple property funds may provide sufficient evidence that action is necessary.
"That the governor has already signaled the BOE will ease soon tells us that the BOE's strategy is to act in anticipation of the forthcoming weakness rather than being data dependent," said Kallum Pickering, an economist at Berenberg Bank in London. "This suggests the BOE will probably move sooner rather than later."
Investors are pricing in an 80 percent chance of a rate cut this week, up from 11 percent just before vote counts showed the "Leave" campaign had won the referendum. A significant spike in those bets came after Carney's speech on June 30, where he said it was "plausible that uncertainty could remain elevated for some time" and that "some monetary-policy easing will likely be needed over the summer."
"I can't think of a speech where we've had a clearer policy signal from him," said Ross Walker, an economist at Royal Bank of Scotland Group Plc in London. "He has created a clear expectation in the market that they will deliver something this week."
Before it's here, it's on the Bloomberg Terminal.
LEARN MORE