Brexit Bulletin: It's Theresa May's Day
The U.K. gets ready for a new prime minister.
by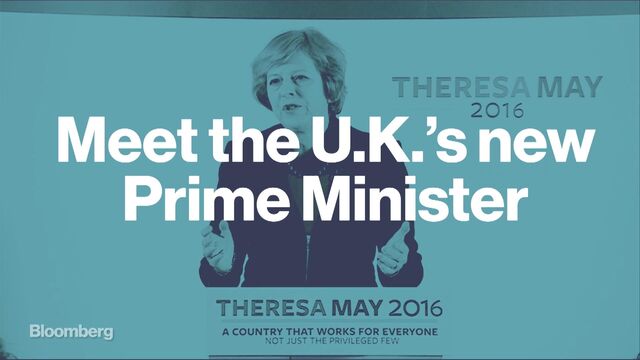 Sign up to receive the Brexit Bulletin in your inbox.
Today's the day. 
Not quite three weeks after the U.K. voted in favor of leaving the European Union, Theresa May will today take over from David Cameron to become the 54th British prime minister.
Only the second woman to lead the nation, she's the most prominent of a group of women now centre-stage in U.K. leadership roles. Home Secretary for the past six years, she faces the daunting task of managing its exit out of the European Union while trying avoid recession.

She has quite the task. Pro-Brexit campaigners told voters they would be able to stop the free movement of EU citizens into Britain while also keeping access to the EU's single market, an incompatible proposition that May also said is her priority.
For more on May, watch the video above and let Bloomberg's Rob Hutton get you up to speed.
What Will Happen Today? And When?
It all kicks off at noon when Cameron, PM since 2010, takes his final question and answer session in the House of Commons. He's then expected to make a statement outside 10 Downing Street.
Later in the day is when the real action takes place. Cameron will head to Buckingham Palace to tender his resignation to the Queen. Then May will be invited to "kiss hands" with the monarch, after which she will be prime minister tasked with forming a government. She then moves into Number 10; signs are that she will start naming her key ministerial team by the evening. 
Who Will Be in Her Cabinet?
May's most-watched act at the outset will be naming a "Brexit tsar," while she is also expected to increase the number of women in the Cabinet. Energy Secretary Amber Rudd and International Development Secretary Justine Greening could get a big job, while Brexit campaigner Priti Patel could be promoted.
As for Chancellor of the Exchequer, she could decide to move George Osborne, potentially to the Foreign Office or to the backbenches. Candidates to replace Osborne include Rudd, Business Secretary Sajid Javid and Foreign Secretary Philip Hammond. 
What Are the Markets Doing?
A global stock rally showed signs of losing momentum on Wednesday, with European stocks nudging only slightly upward by 10.45 a.m. London time. The pound strengthened, nearing $1.3280 to continue recent gains.

Despite this week's rally, sterling has dropped 11 percent since Cameron took office on May 11, 2010 although until last month's referendum it was up 0.2 percent. As the chart below shows, equities and bonds have fared better than the currency.

And Finally...
For all the warnings that Brexit would create job losses, it may trigger a boom in the employment of trade negotiators. As Matthew Campbell reports, lawyers, consultants and even retired civil servants with relevant experience will be in higher demand than ever before. The U.K. hasn't struck a trade deal on its own since the early 1970s and the government is already looking to put 300 specialized employees in place by the end of the year. 
For more on Brexit follow Bloomberg on Twitter, Facebook and Instagram, and see our full coverage at Bloomberg.com
Before it's here, it's on the Bloomberg Terminal.
LEARN MORE