Axel Springer CEO Says Virtual Reality Will Transform Journalism
By
VR is already being used in war reporting, Doepfner says

CEO calls ad blockers' business model 'blackmailing'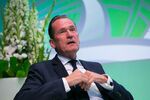 Virtual-reality technology is set to improve journalism and create new business models for the media industry, according to Axel Springer SE Chief Executive Officer Mathias Doepfner.
Doepfner has discussed the technology with Facebook Inc. CEO Mark Zuckerberg, who believes VR will replace interactions such as e-mails and phone calls, the German executive said Wednesday at a conference in Berlin. The media industry is already deploying VR cameras in war reporting, Doepfner said.
"VR can really make journalistic content better" without the journalist or the consumer being there physically, Doepfner said. "It's going to be huge."
Axel Springer has digitized its news, advertising and classifieds businesses and expanded to English-speaking markets to replace declining revenue from print products. The publisher of the best-selling Bild tabloid now generates about three-quarters of its profit from digital businesses.
The service of Snapchat Inc. is another "tremendous opportunity" to distribute content, Doepfner said, without elaborating. The executive criticized ad blockers that charge advertisers for allowing their content to reach the user, calling such business models "blackmailing." Instead, the industry should come up with more user-friendly ads, he said.