Avianca Brasil Shakes Off Recession Worries With $6 Billion Deal
by
Airline orders 62 Airbus A320neos to overhaul its fleet

Carrier's move contrasts with Gol's attempt to return planes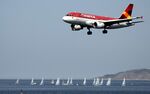 Avianca Brasil is pushing ahead with plans to overhaul its aircraft fleet as the closely held carrier shakes off worries over the deep Brazilian recession and looks ahead to projections of rapid growth in Latin American air travel.
Synergy Aerospace Corp., the airline's owner, agreed to buy 62 narrow-body planes from Airbus Group SE's A320neo family, the companies said Wednesday in a statement during the Farnborough Air Show in the U.K. The deal is valued at more than $6 billion at list prices, though buyers typically negotiate discounts.
The purchase agreement comes about a year after Synergy and Airbus signed a memorandum of understanding -- a more-tentative accord than a firm order -- for the jets. Since then, Brazil has plunged into its deepest recession in a century amid wide deficits and falling business and consumer confidence. The country's credit rating has been downgraded to junk amid contraction in Latin America's largest economy, while a widespread corruption probe has ensnared business and political leaders.
Bolsters Fleet


The aircraft will bolster Avianca Brasil's current lineup of 40 A320 jets and one A330 freighter, the companies said. The carrier is looking to modernize and expand the fleet to accommodate air travel growth of more than 5 percent a year in Latin America.
"Domestic traffic in Brazil is projected to nearly triple by 2034, placing it among the world's top 10 fastest-growing traffic flows," John Leahy, Airbus's chief salesman, said in the statement. The new planes will help Avianca Brasil "capitalize on this growth and deliver enhanced performance capabilities in challenging airports such as Rio de Janeiro's Santos Dumont."
Avianca Brasil, the country's No. 4 airline by market share, had been considering smaller regional aircraft from manufacturers such as Embraer SA and Bombardier Inc. to boost its ability to access more remote airports, the carrier said in 2014.
The airline's strategy contrasts with that of Gol Linhas Aereas Inteligentes SA, Brazil's largest carrier, which is discussing returning 20 airplanes to lessors under a plan to downsize operations. The company held a bond exchange and is seeking other ways to reduce its debt load.
Colombian airline Avianca Holdings, which is separate from Avianca Brasil and is also controlled by Synergy, said earlier this year that it was cutting deliveries from Airbus by $1.4 billion through 2019.
Before it's here, it's on the Bloomberg Terminal.
LEARN MORE