Venezuela Trucks Food Directly to the Poorest as Chaos Spreads
by and
Maduro government is competing with the black market

Empty refrigerators infuence the battle for hearts and minds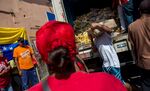 Catia, a vast network of makeshift homes in western Caracas, has long been a proud bastion of Venezuelan socialism. The residents may be working class but their housing is subsidized, their clinics free, their favorite color ruling-party red.
Red T-shirts were everywhere in Catia one recent morning but not for another ribbon cutting. This time, loyalists were unloading a government truck packed with food for once-resolute supporters whose pantries are achingly empty.

"Since they told me last night it was on its way, I could barely sleep," said Andrea Vasquez, a 40-year-old call center operator, who watched as dozens of her neighbors swarmed the truck. "It's a miracle."
Steeped in oil reserves, the leading edge of leftist populism, Venezuela is descending into chaos. While the opposition gathers signatures to oust the president, the food trucks are part of the latest attempts to hold onto the faith of a disillusioned populace, with the military now overseeing the nation's food supply. Hunger -- real hunger -- is rearing its head in parts of a country that four decades ago was one of the 20 richest in the world.
For a QuickTake explainer on Venezuela, click here.
Going to Bed Hungry
A June study by a government opponent in a central Venezuelan state found that one third of public school sixth graders were eating only once or twice a day while half said they'd gone to bed hungry at least once the previous week. Last weekend, Venezuela opened its border with Colombia for 12 hours and 35,000 people rushed over to buy food and medicine.

Entire days are now spent outside stores waiting to buy a handful of basic items, with protests and looting rising sharply. Hoarding and flipping scarce goods have become a growth industry. Those who buy and resell, known as bachaqueros, are among the few succeeding in this economy.
In an attempt to regain control, President Nicolas Maduro has tapped loyal neighborhood groups, called CLAPs, and put them in charge of distributing as much as 70 percent of the nation's food. The committees, whose meetings start with socialist anthems, are told they must wrest control of the food market from those reselling it illegally.
"There is an economic war being waged," said Janette Carillo, 45, a local CLAP member who helped oversee the Catia food delivery. "Our job is to break the arm of the bachaquero," she said.
Defending the Revolution
After taking on global powerhouses like Exxon Mobil and PepsiCo., the government is now targeting bachaqueros -- frantic, ordinary people who have abandoned jobs to wait in line all night in order to get by. The notion that they are part of a capitalist assault on Venezuela is hard to square with the facts. Meanwhile, opposition leaders contend that the food trucks exclude their followers.

"They have one function and one objective," Mariela Magallanes, an opposition legislator said of the CLAPs, "to defend the revolution. And for them, whoever is not in the party or is against them will be excluded."
Over the past two decades, the private sector has been decimated with some 1,000 companies and land holdings expropriated and lying idle. The government has capped the price of many essentials well below production costs, offering little incentive to businesses. More than two thirds of all goods consumed in Venezuela are imported or assembled from goods from abroad.
The CLAPs, or Local Committees for Supply and Production, pool funds from poor communities and approach private food sellers directly with state transport. To avoid long lines and smuggling, the CLAPs say they cut out the middle man -- the revolution's version of direct delivery. The wide expectation is that this experiment will not go well. 
More Complicated Than Amazon.com
"You have government without funding, know-how and infrastructure trying to create something that's logistically more complicated than Amazon.com," said Dimitris Pantoulas, a Caracas-based political consultant.

Program officials assure it will be fine. "In times of war, you take exceptional measures," said Freddy Bernal, a former police commissioner and Caracas mayor, who now oversees the CLAPs nationwide. Riding with heavy security and a pistol in his lap, he is approached constantly by constituents in need of food and medicine.
Bernal acknowledges the growing hunger and "errors" committed in the 17 years under President Hugo Chavez and later Maduro but insists the current path is the correct one.
"The control of the CLAPs is in the hands of the revolution, but the benefits will be in the hands of the entire population," he said.
Neighbor Against Neighbor?
That remains to be seen since the shortages are less a problem of distribution than supply. The government plans to halve imports to make good on billions of dollars of bonds maturing later this year. With the expected cutback, the risk of civil conflict grows. As Marco Ponce, the director of the Venezuelan Social Conflict Observatory, says, "What we're seeing is that neighbors are now confronting neighbors."

Bernal counters that looting is a tactic used by the government's foes to foster unrest. "It's part of war," he said as his convoy arrived at a plot of urban farms, another government initiative to combat the shortages.
Some in the hillside slum stood watching skeptically as Bernal passed. Flor Maria Diaz, a 46-year-old homemaker complained that a tight budget and lack of products had reduced her family to a diet of plantains and potatoes. "War or no war," she said. "Things are going to get worse."
Before it's here, it's on the Bloomberg Terminal.
LEARN MORE