Amid Talk of Money Helicopters, Abe Eyes Reboot of Economic Plan
by
Fresh off big election win, Japan weighs fresh fiscal blitz

'It's time to reboot Abenomics, there is no doubt about that'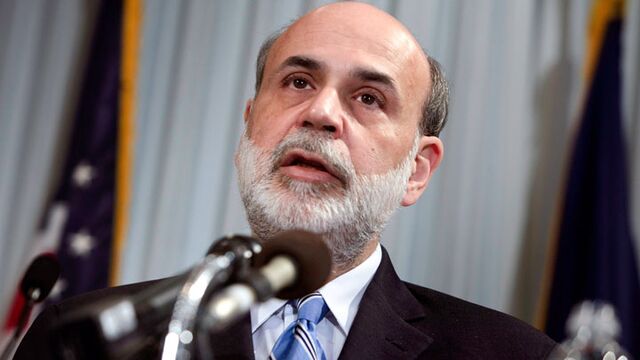 Ben S. Bernanke earned the nickname "Helicopter Ben" for once suggesting a central bank could overcome deflation by cranking up the money presses to finance tax cuts. He's always made clear such efforts would be a last resort, the equivalent of dropping money from the sky.
So when the former Federal Reserve chairman arrived in Tokyo for talks with Japan's top policy makers this week, bond traders, stock investors and economists had reason to wonder. Was Shinzo Abe's economic team ready to break the glass, pull the emergency lever and entertain such a radical shift in policy as direct fiscal financing by the central bank.
While officials Wednesday played down the most extreme scenario, two of Abe's top advisers did call for a double-barreled blitz of coordinated fiscal stimulus and money printing. The prospect of a new chapter in Japan's stimulus history is all the more likely after the thumping political win Abe's Liberal Democratic Party pulled off in the just-held upper house election. Abe enjoys wide majorities in both chambers of the Diet and unrivaled power in Japanese politics, at least for the moment.
An emboldened Abe has the running room to push ahead with bold fiscal measures -- read yet more borrowing -- if he chooses. With Japan's economy struggling for sustained growth, action could come as early as this month, coinciding with a July 28-29 policy meeting for Bank of Japan Governor Haruhiko Kuroda and his central bank team.

Abe's signature, three-pronged economic policy of dramatic monetary easing, fiscal spending and structural economic reform has failed to deliver on its promises. When he announced the policy package dubbed Abenomics in 2012, the prime minister vowed to slay deflation and restore growth. Fast forward to 2016 and that optimism is being tested. Japan's Cabinet Office forecast the economy to grow 0.9 percent this fiscal year, lower than the 1.7 percent estimated in January.
"It's make-or-break time for Abenomics," said Frederic Neumann, co-head of Asian economic research at HSBC Holdings Plc in Hong Kong. "With the overwhelming election win over the weekend, this is the chance for the government to relaunch its reform agenda."
Policy Missteps
Abe's political popularity has held up surprisingly well despite a number of policy missteps, with his approval rating currently 53 percent. The shock introduction of negative rates by the BOJ in January damaged the central bank's credibility and did little to spur growth. This year's 15 percent surge in the yen is hurting corporate profits, major structural reforms haven't materialized and deflation remains a worry. A much hoped for 12-nation Trans Pacific Partnership trading pact has yet to be signed off by U.S. lawmakers.
Whether Japan is ready to call in the choppers and have the BOJ directly fund government spending -- the equivalent of turning the central bank into a giant ATM to underwrite aggressive fiscal measures -- is far from clear. Japanese stocks extended gains for a fourth day on Thursday as investors anticipate another stimulus push. The yen made modest gains for a second day, after weakening on Monday and Tuesday. At 10:30 a.m. in Tokyo, it traded at 104.27 per dollar.
For a QuickTake explainer on helicopter money, click here.
Now a fellow-in-residence at the Brookings Institution, Bernanke has argued in a blog post on the Washington think tank's website that "in theory at least, helicopter money could prove a valuable tool," when "conventional monetary policies are ineffective" and "government debt is high."
'Risky Gamble'
That said, such a move would likely run into a wall of political opposition in Tokyo and at least one key government adviser, Koichi Hamada, 80, warned in an interview on Wednesday that helicopter money would be "a very risky gamble."
At the same time, Hamada said that boosting fiscal and monetary stimulus simultaneously would be effective, and that the government needs to keep its options open. Etsuro Honda, another top adviser, said now is the time for a double dose of support, saying in an interview that Japan cannot cope with deflation with the yen around 100 per dollar -- as it is.
Chief Cabinet Secretary Yoshihide Suga told reporters it's not the case, as the Sankei newspaper reported, that the Abe administration is considering helicopter money. Hamada, who was among the officials who met with Bernanke, said that option wasn't discussed. Kuroda on Monday also met with Bernanke, whose 2003 visit to Tokyo to press for greater anti-deflation efforts is still discussed at the BOJ more than a decade later. The BOJ issued no statement on the substance of their lunch meeting this week.
Negative Rates
Some analysts reckon Japan is effectively already deploying the strategy through the BOJ's massive purchases of government bonds, which rose by 85 trillion yen in the year to June 2016, more than twice the pace of issuance, Robert Feldman, chief economist at Morgan Stanley MUFG Securities Co. in Tokyo wrote in a note Wednesday.
Honda urged more of the same, with greater BOJ bond purchases twinned with a 10 trillion yen fiscal package.
Japan doesn't have a lot of great policy options at the moment. The BOJ's surprise adoption of negative rates in January hurt the profit outlook for commercial banks and damaged confidence. Even so, cutting rates further into negative territory may be worth it, said Masamichi Kono, a former vice commissioner for international affairs at the Financial Services Agency, who continues to advise the regulator. 
'Worth Trying'
"To the extent that lower borrowing rates would stimulate the economy as well as encourage a rebalancing of investment portfolios in favor of riskier assets with higher yields, it may be worth trying," he said.
Other options include the BOJ expanding efforts to stoke lending by banks through offering negative interest rates for such funding -- effectively paying banks to extend credit. It could also buy more exchanged traded funds, or widening the scope of its asset purchases to include securities such as regional bonds. There have even been calls from some quarters for a tax on companies with big cash hoards to prod them to invest.
Not all the economic news is grim: unemployment is all of 3.2 percent and cheaper oil prices in recent years have given consumers a boost. Yet if Japan's economy is to gain traction, it will need to grapple with thorny reforms to shake up work practices, the services sector and do more to offset a rapidly aging population.
While pushing through these reforms will be painful, it will be vital if the economy is going to find a sustainable growth path, said Klaus Baader, chief Asia-Pacific economist at Societe Generale SA. "It is time to reboot Abenomics, there is no doubt about that."
Before it's here, it's on the Bloomberg Terminal.
LEARN MORE