Aberdeen Reopens U.K. Property Fund as Investors Change Mind
By
Asset manager earlier said most sell orders had been reversed

CEO says real estate is still 'important' for investors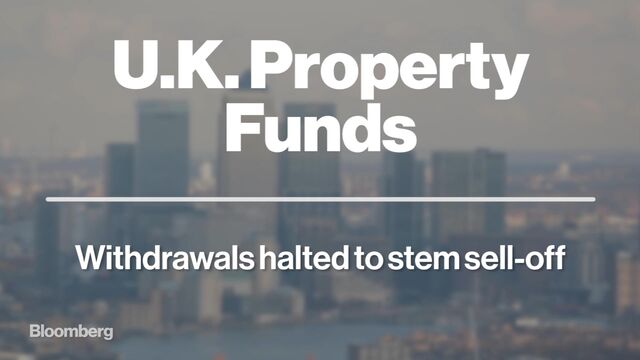 Aberdeen Asset Management Plc reopened its 3.2 billion-pound ($4.2 billion) U.K. property fund and feeder trust after a week-long suspension as investors reversed their requests to get their money back.
Aberdeen suspended trading of the fund on July 6 as redemptions soared across the industry on concerns Britain's shock decision to leave the European Union will hurt commercial property prices. The firm cut the value of the fund's underlying assets by a further 17 percent last week to stem the requests, after already reducing the value by 3.75 percent. The Scottish fund manager said at the time it wanted to give investors time to reconsider.
"I am pleased that investors will now be able to trade shares in the funds," said Chief Executive Officer Martin Gilbert in the statement. "The market may take time to find its level but I have no doubt that property will continue to play an important part in investors' portfolios. The CEO said in an interview Monday that about two-thirds of redemption requests may be withdrawn.
Seven U.K. property funds including Aberdeen, who oversee about 18 billion pounds of assets, froze redemptions last week to preserve cash levels and avoid a fire sale of commercial real estate assets. That came as analysts warned that London office values could fall by as much as 20 percent within three years of the country leaving the EU.
The remaining six asset managers, including Standard Life Investments and Henderson Group Plc, must review their fund suspensions at least every 28 days, according to rules stipulated by the Financial Conduct Authority.
Any uncanceled orders for subscriptions or redemptions placed from noon on July 5 and the same time on July 6 will now be processed at the diluted price, Aberdeen said Wednesday.
Before it's here, it's on the Bloomberg Terminal.
LEARN MORE