Abe Adviser Calls for Coordinating Fiscal, Monetary Stimulus
by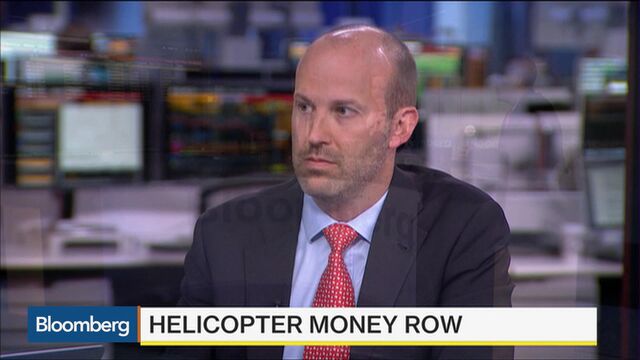 A key economic adviser to Japanese Prime Minister Shinzo Abe said boosting fiscal and monetary stimulus at the same time would be a good strategy, while playing down the likelihood of employing so-called "helicopter money."
Japan needs to keep various policy options open, including coordinated action by the government and central bank, Koichi Hamada said in an interview on Wednesday.
Helicopter money, an unorthodox policy approach in which the Bank of Japan could directly fund government spending, would be a "very risky gamble," said Hamada, 80, noting that history has shown the dangers of unstoppable inflation.
He was speaking as the government prepares a fiscal stimulus package to boost the struggling economy and ahead of a BOJ meeting on July 28-29. The yen has weakened this week while stocks have rallied in Japan amid debate and speculation on the potential size and composition of stimulus.
"I get a feeling that discussions are floating way up in the air," said Junko Nishioka, chief economist for Japan at Sumitomo Mitsui Banking Corp. "After all, what is helicopter money? I think people are talking as if money would fall from the sky. Discussions are accelerating even though they haven't organized their thoughts at all on things like how it would be financed."
The Sankei newspaper reported earlier that officials around Abe are considering helicopter money as a policy option. Chief Cabinet Secretary Yoshihide Suga told reporters later this is not the case.
For a QuickTake explainer on helicopter money, click here
The Topix index pared its gains in the afternoon on Wednesday to close with a 1.1 percent increase. The yen rose 0.4 percent to 104.24 per dollar as of 3:43 p.m. in Tokyo, halting a two-day decline.
Abe, Bernanke Meet
Abe, Hamada and other key government officials on Tuesday met former Federal Reserve chief Ben S. Bernanke and discussed the Japanese economy. Abe told Bernanke he wants to speed up the nation's exit from deflation, underscoring his commitment to implementing fresh economic stimulus. Hamada said there had been no discussion of helicopter money at the meeting.
Despite this week's rally in stocks, Hamada said Japanese shares have been sold below their fundamental value. He said Japanese investors, not the central bank, have shown cowardice. The BOJ is continuing an unprecedented program of asset purchases and has adopted a negative interest rate.
Hamada said that while he's not sure what the BOJ will do at its next gathering, it doesn't need to worry about volatile oil prices. Inflation excluding fresh food and oil has reached about 1 percent, he said.
Before it's here, it's on the Bloomberg Terminal.
LEARN MORE