Zimbabwean Police Charge Protest Preacher for Inciting Violence
by , , and
Lawyer says Evan Mawarire received summons from police

Mawarire leads #ThisFlag movement that backed strike last week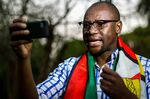 Zimbabwean police charged a Baptist preacher who leads a protest movement for inciting violence during a nationwide strike in Zimbabwe last week, his lawyer said.
Police charged Evan Mawarire, 39, with "inciting public violence and disturbing the peace," attorney Harrison Nkomo told reporters Tuesday in Harare, the capital. Earlier, Mawarire walked into the Central Police Station in the city's business district after receiving a summons. Mawarire's #ThisFlag movement was one of several groups behind a strike on July 6 that brought much of the southern African nation to a halt.
"We have broken no law, so I take it that it's just routine questioning, but in the event that I'm arrested, I want you to understand that even if they arrest Mawarire, the issues remain the same. We are in the clear," Mawarire said in a Facebook video posted online late Monday.
Mawarire's movement, joined by other activists, is demanding that corrupt government ministers be fired, that civil servants be paid their salaries, and an end to police harassment and brutality. Other demands include the lifting of an import ban on basic goods and scrapping a plan to introduce bond notes. The notes, planned for October, are meant to ease a shortage of cash in the country.
Mawarire came to prominence in April when he draped a Zimbabwean flag over his shoulders and recorded a lament on the state of his nation on YouTube.
The strike followed a Finance Ministry announcement that it was delaying pay for state workers, including the military, and riots sparked by protests by taxi drivers over alleged police harassment. Violent clashes also erupted at Zimbabwe's main border post with South Africa, forcing its closure, when the government banned the import of certain goods.
President Robert Mugabe's administration has faced a worsening cash shortage in recent months. Since abandoning its own currency in 2009 to end hyperinflation, Zimbabwe has used mainly U.S. dollars, as well as South African rand, euros, and British pounds. The government spends about 83 percent of its revenue on wages, according to Finance Minister Patrick Chinamasa.
Before it's here, it's on the Bloomberg Terminal.
LEARN MORE