Wall Street's Biggest Venezuela Bond Contrarian Feels Vindicated
By
Ex-BofA economist Rodriguez says Maduro ouster is likely

Venezuela's dollar-denominated bonds returned 28% this year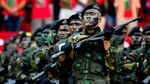 While Wall Street analysts and investors have braced for Venezuela's default in the past three years, Francisco Rodriguez has remained steadfast in his belief that the country would pay. Now, his contrarian view is winning converts.
The nation's bonds have returned 28 percent this year -- twice the average gain for emerging markets. Debt investors are betting that Venezuela's economic crisis will finally help force President Nicolas Maduro from office and usher in a new government capable of making the desperately needed policy changes to avert a total collapse.

Rodriguez, who took up his new role as chief economist at Torino Capital last week after leaving Bank of America Corp. in May, says a new government is likely to make changes including re-establishing market access and offering a voluntary rollover of debt. For a country that been battered by the plummet in oil, it's all the more remarkable.
"The fact that even though the country had a much higher-than-expected adverse terms of trade shock and it still continued to pay, I think really affirms that our prediction was right," Rodriguez said from New York.
The opposition is pushing for a referendum to recall Maduro -- the handpicked successor of late President Hugo Chavez -- and says electoral authorities have verified more than double the number of signatures needed to take the next step.
Growing speculation that Maduro's days are numbered has prompted traders to chop their default bets. While Venezuela is still considered the most likely country in the world to renege on its debt obligations, the chance that happens over the next 12 months has dropped to 55 percent from 82 percent earlier this year.
"What you're starting to see right now in Venezuela is the beginning of a what I think will be a very long rally based and premised on the expectation of regime change," Rodriguez said.
Rodriguez has clashed with Harvard University Professor Ricardo Hausmann, who ignited the default debate two years ago when he suggested the country should stop paying its debt as it imposed increasing hardships on its people. A default would be costly for the OPEC country and its crude producer Petroleos de Venezuela SA, whose oil assets around the world could be seized, Rodriguez has said.
The 46-year-old Venezuela native -- who had co-authored a book with Hausmann titled "Venezuela Before Chavez, Anatomy of an Economic Collapse" -- also became well known for his statistical series that tracked everything from inflation to imports amid a lack of official economic data from the government.
Francisco Toro, executive editor at CaracasChronicles.com, described Rodriguez's work in 2014 as lobbing a "conceptual hand-grenade at the center of the opposition conventional wisdom."
Venezuela's bonds due in 2027 were trading at 48.5 cents on the dollar at 11:51 a.m. in New York, and have recovered from a record low of 32.45 cents in February.
The rebound comes as things in Venezuela go from bad to worse. The International Monetary Fund predicts the economy will shrink 8 percent in 2016, while its inflation rate will reach about 480 percent.
"This is a country that's being poorly run temporarily, but the way in which it's run is going to change in the future, either in the near or medium term, but that change is reasonably close and its definitely closer than most of the maturities of the bonds that are traded," Rodriguez said. "That means that these are fundamentally good investments."
Before it's here, it's on the Bloomberg Terminal.
LEARN MORE