Corbyn Gets Automatic Place in U.K. Labour Leadership Vote
by and
Corbyn faces challenge from former business spokeswoman Eagle

Executive say Corbyn can run without securing lawmaker support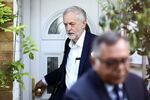 Jeremy Corbyn's hopes of remaining head of the U.K. Labour Party received a significant boost when its governing body ruled he should automatically be able to stand in the leadership contest triggered by his former business spokeswoman, Angela Eagle.
The National Executive Committee decided Tuesday evening that Corbyn will not have to secure the support from lawmakers that his challenger needed. Eagle required about 50 nominations from Labour legislators, a level Corbyn might have struggled to match given he recently lost a no-confidence ballot by 172 votes to 40.
"I'm delighted to say the Labour Party's national executive has decided that the incumbent is automatically on the ballot paper, so I'm on the ballot paper," Corbyn told cheering supporters outside the meeting in central London. "I was elected 10 months ago today with a very large mandate. I respect that mandate. It's a responsibility I'm carrying out."
With former work and pensions spokesman Owen Smith also announcing his intention to stand for the Labour leadership, the NEC decision is set to deepen the crisis that has engulfed the main opposition party since Britain voted to leave the European Union last month.
More than 60 Labour lawmakers have quit Corbyn's front-bench team and a succession of party grandees have called on him to resign. The hard-line socialist insists he retains the support of the party rank-and-file and had hinted at legal action if the NEC decision went against him.
'Determined to Win'
"I'm glad Labour's NEC has come to a decision," Eagle said in a posting on Twitter. "I welcome the contest ahead. And I am determined to win it."
Announcing his leadership bid in a BBC Radio interview Wednesday morning, Smith said he would be a "radical and credible" leader of the party and that Corbyn could not win a general election. "The prospect of a Labour government feels so distant for working people," Smith said.
The election campaign will start on Thursday, Labour said in an e-mailed statement, and only members who joined before Jan. 12 of this year will be eligible to vote. Registering to cast a ballot in the contest will cost 25 pounds ($33), up from the 3 pound levy charged last year.
The Labour-supporting New Statesman said nominations will close Aug. 15, ballots will be mailed out Aug. 22 and voting ends a month later, with results announced Sept. 24.
Corbyn said Tuesday that he has received death threats over the past weeks, while police said they're investigating "criminal damage" at Eagle's constituency office in northwest England. In an e-mailed statement, Corbyn appealed for calm.
Eagle, speaking in a BBC TV interview, said the damage to her office had been done in Corbyn's name and he should "get control" of his supporters. "It's bullying, it has absolutely no place in politics in the U.K. and it needs to end," she said.
The battle comes as the ruling Conservative Party swiftly moved to install Theresa May as its new leader and the country's prime minister, charged with leading Britain out of the EU.
Before it's here, it's on the Bloomberg Terminal.
LEARN MORE