U.K. Labour's Corbyn Claims Death Threats Amid Leadership Row
Thomas Penny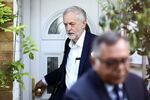 Jeremy Corbyn, the beleaguered leader of the U.K.'s opposition Labour Party, said he has received death threats over the past week as he battles to stay in his role.
The veteran socialist, whose lawmakers in parliament overwhelmingly passed a vote of no confidence in him last month, made the claim as he issued a statement after a window was broken at the office of Angela Eagle, who is challenging him for leadership of the party.
"It is extremely concerning that Angela Eagle has been the victim of a threatening act and that other MPs are receiving abuse and threats," Corbyn said in an e-mailed statement. "As someone who has also received death threats this week and previously, I am calling on all Labour Party members and supporters to act with calm and treat each other with respect and dignity, even where there is disagreement."
Labour's National Executive Committee is scheduled to meet on Tuesday to decide the rules that will govern the leadership contest. They will have to decide if Corbyn is allowed under the party rules to stand for election again if he doesn't have the support of enough lawmakers.
Merseyside Police is investigating "criminal damage" to the ground floor window of a building in Manor Road, Wallasey, where Eagle has her constituency office, the force said in a statement on its website.
Before it's here, it's on the Bloomberg Terminal.
LEARN MORE