This $150 Billion Manager Sees Europe Stocks Catching Up to U.S.
by
Valuations, profit rebound to help, says Pictet strategist

Euro-area shares remain down in 2016 while S&P 500 rallies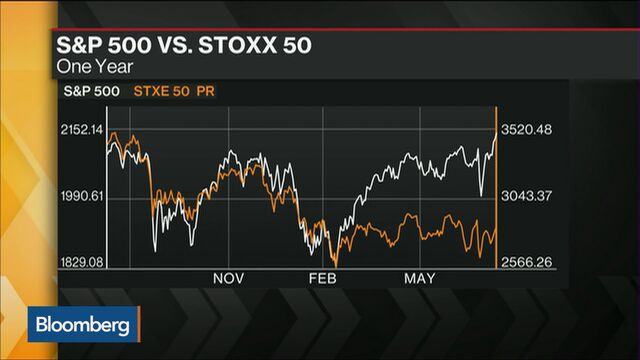 As investors send U.S. equities to new peaks and pull money from European shares, one money manager is betting the trend will reverse.
Supriya Menon, a London-based multi-asset strategist at the $150 billion Pictet Asset Management, sees the Euro Stoxx 50 Index beating the S&P 500 over the next six months. Lower valuations, the potential for earnings to rebound and the possibility of more central-bank stimulus are all flashing buy, she said.
Even after rising 6 percent over four days, catching up with U.S. shares would be a tall order for the European gauge, which remains down 10 percent in 2016 compared with the S&P 500's gain of about 5 percent. One thing working in its favor is valuation: the index has never been cheaper than it is now relative to the U.S., according to Bloomberg data going back to 2005.
"We expect the performance year-to-date to flip around so that Europe outperforms the S&P 500 Index over the next six months," Menon said by phone. "Given the fact that European equities are oversold by many measures in both the Euro Stoxx 50 Index and the Stoxx 600 index, we think they will turn around."

While estimates for S&P 500 earnings have been on the rise since 2009, forecasts for Euro Stoxx 50 profit have moved in the opposite direction for most of the ensuing period, falling to an almost seven-year low earlier this year. The earnings gap between the two will close over the next few years, turning the tide in favor of European equities, Menon said. The U.K. secession vote may also prompt more globally coordinated and looser monetary policy. Additional stimulus from the European Central Bank and the Bank of England would prove positive for European growth, she said.
The region's stocks have struggled to recover losses from the aftermath of the Brexit vote, with investors withdrawing money from funds for a 22nd straight week, according to a Bank of America Merrill Lynch note on Friday citing EPFR Global data. Even before the referendum, euro-area equities were plagued by concerns over the continent's economic outlook, political uncertainty in Spain and the strength of Italy's banking system. Strategists in April reversed calls for the Euro Stoxx 50 to gain this year, and continue to predict declines.
Pictet joins fund managers including JP Morgan Asset Management in calling the asset class a buying opportunity. The Swiss firm kept its overweight position on European equities through the Brexit vote and upgraded its ratings on global and U.K. stocks after the referendum. The risks for the region's shares are overdone, and a weak pound will continue to support U.K. exporters, Menon said. The FTSE 100 Index entered a bull market on Monday, up more than 20 percent from its February low.
The Euro Stoxx 50 is trading at 12.8 times estimated earnings, versus a multiple of about 17 for the S&P 500. On a price-to-book basis, U.S. stocks are about twice as expensive. Earnings at euro-area companies will increase 13 percent in 2017 after declining this year, analysts estimate, in line with the 14 percent increase forecast for S&P 500 firms.
Prospects for Europe's banking sector, the worst hit this year, will also start to improve if the ECB puts together a recapitalization package, Menon said. Italian lenders offer "compelling value," she said, but any future outlook would depend on whether they are recapitalized, and the firm maintains its neutral rating on the sector for now. German Chancellor Angela Merkel on Tuesday joined Italian Finance Minister Pier Carlo Padoan in signaling confidence that a fresh Italian banking crisis will be averted.
"Everyone paints the picture of deep uncertainty in terms of the political future of the European project," Menon said. "If you have a more pessimistic view, then the risk premium is justified. If you think, as we do, that an alternative scenario is just as likely, it's compelling."
Before it's here, it's on the Bloomberg Terminal.
LEARN MORE