Theresa's Diary: Challenges Ahead for the New Prime Minister
Britain's new leader already has plenty in her in-tray.
by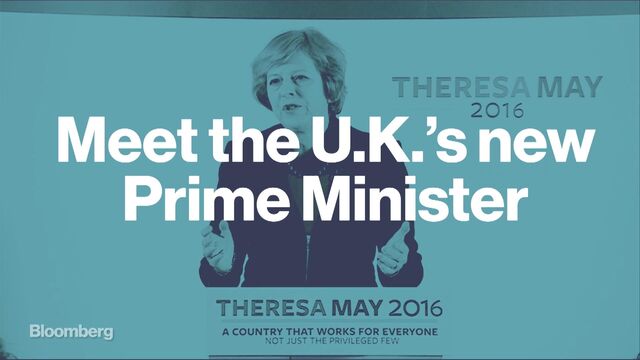 The U.K.'s incoming Prime Minister Theresa May will have plenty to keep her busy once she moves into 10 Downing Street to take up the reins of power. Here's what Britain's second female prime minister can expect from her first months in office. 
The Honeymoon Period?

July 13: Cameron's last Prime Minister's Questions in Parliament, after which he visits Queen Elizabeth II to resign. The monarch will then invite May, 59, to form a government. It's traditional for fellow leaders including U.S. President Barack Obama, German Chancellor Angela Merkel and French President Francois Hollande to call the new prime minister to offer their congratulations. May will probably then start to announce the members of her ministerial team. She also has to move house, and say hello to her new pet cat.
July 14: The Bank of England announces its interest-rate decision. Economists expect the bank to cut the key rate for the first time since 2009. May's first day in office could see her asked to comment.
July 18: Parliamentary vote on the renewal of the Trident nuclear deterrent. May has said it would be "sheer madness" to give up the weapons system. The opposition Labour Party is divided on the issue, providing May with a potential opening .
July 20: May will stand up for her first Prime Minister's Questions.
July 21: Parliament goes on summer recess until Sept. 5.
While all other major parties have called on May to hold an early general election, she said when she announced her candidacy that there should be no general election "until 2020."
August: European officials go on vacation.

May, however, promised in her campaign speech to create a new government department, led by a pro-Brexit minister, to handle Britain's negotiations with the European Union. This could be set up in August, although formal negotiations will only begin once Article 50 of the Lisbon Treaty is invoked.
Back to Work
September 4-5: The G-20 summit in Hangzhou, China. Cameron had planned to discuss U.K. steel with China at the forum, a task that will now fall to May as she meets many of her global counterparts for the first time.
September 9-10: Ecofin in Bratislava provides the first chance for May's pick as chancellor of the exchequer to meet with fellow EU finance ministers.
September 13: 71st UN General Assembly opens. Last year's UNGA saw Cameron call on world leaders to up their aid spending.
September 15: Parliament rises and UKIP declares its new leader. Nigel Farage quit as party head following the Brexit vote, saying his political ambitions had been achieved. His replacement will determine whether UKIP continues to sap support from May's Tories.
September 16: EU leaders meet without the U.K. for a summit to chart the EU's future direction.
October 2-5: Conservative Party fall convention. Held in Birmingham, May will address conference for the first time as leader.
October 5: An EU meeting on Afghanistan could be the forum for May's first trip to Brussels as prime minister.
October 20-21: The EU's 28 leaders meet for the first time since the summer. The previous EU summit was dominated by Britain's vote to leave the EU.
October 28: S&P could review the U.K.'s credit rating, with a view to issuing a downgrade, after cutting the country to AA from AAA with a negative outlook after the Brexit vote.
November 8: U.S. presidential election.

Presumptive Republican nominee Donald Trump takes on Democrat Hillary Clinton, with the winner taking the oath of office in January. Will the winner commit to a "special relationship" with the U.K. post-Brexit?
December 20: Parliament rises for Christmas recess
Two to Watch
Autumn Statement: May has ruled out an "emergency budget" in the aftermath of the Brexit vote, but the so-called autumn statement, where the U.K. chancellor updates lawmakers on the government's budget and spending plans, should take place as normal in the fall (there is no fixed date.) In her campaign launch speech May ruled out tax increases before 2020, saying "they would disrupt consumption, employment and investment." 
Article 50: May has said she won't trigger Article 50 to start Britain's departure from the EU until at least 2017, with the process due to take two years. 
Before it's here, it's on the Bloomberg Terminal.
LEARN MORE