Photographer: Noriyuki Aida/Bloomberg
Nowhere to Run for Japan Funds as Hedged U.S. Bond Yields Vanish
by and
Treasury yields turned negative after hedging for yen moves

Japanese 20-year yield also dipped below zero for first time
Japan's bond investors are running out of options, after the yield on both the 20-year government security and currency-hedged 10-year Treasuries slid below zero last week.
Using three-month forwards to remove currency risk, the yield on benchmark U.S. notes sank to as low as minus 0.08 percent last Friday, after the nominal yield slumped to an unprecedented level earlier in the week. That on the 20-year Japanese government bond also turned negative for the first time, while the 10-year JGB yield tumbled to a record minus 0.3 percent.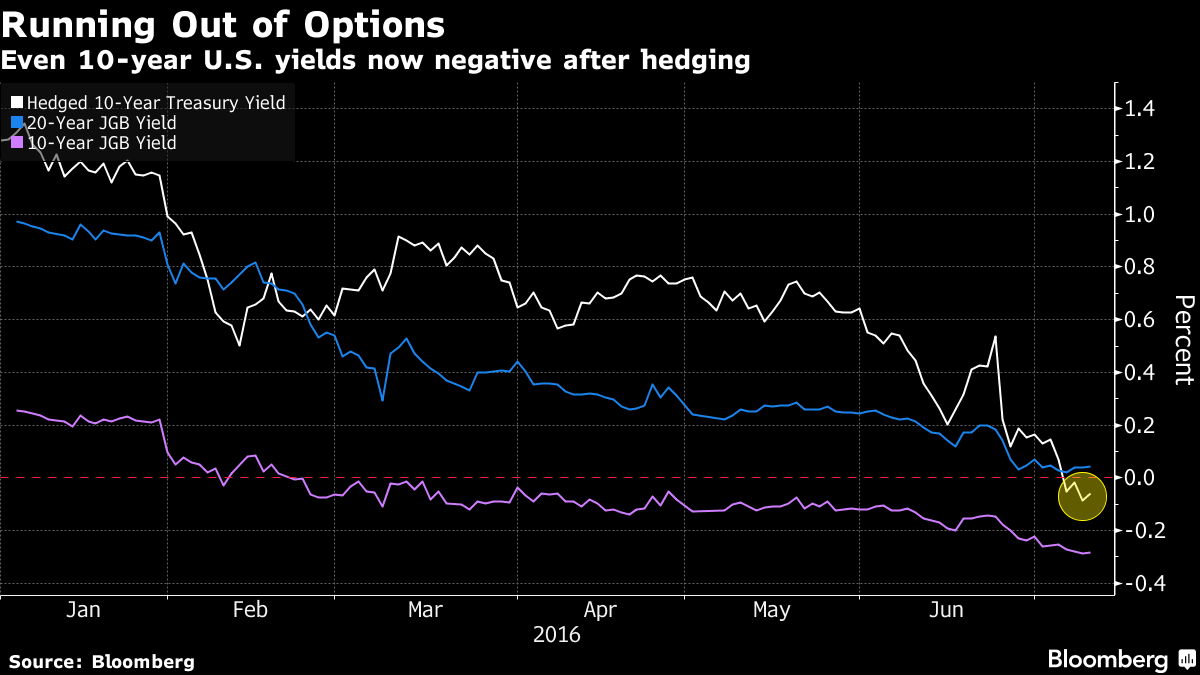 Japanese investors desperate for yield have been forced to either crowd into the longest tenors or shift their money overseas, mainly into Treasuries. Almost 2 trillion yen ($19 billion) flowed into long-term foreign bonds in June, rounding out the biggest first-half exodus of capital in Ministry of Finance data starting in 2005. About 90 percent of JGBs yield less than zero after the Bank of Japan started charging fees on lenders' reserves.
'Really Tough'
"The situation is really tough in yen bonds, and I can't see any solution in alternative investments," said Satoshi Shimamura, the head of rates and markets of the investment strategy department at Massachusetts Mutual Life Insurance Co. in Tokyo. "Investors, including me, are being starved of yield, but we just need to persevere by being creative about how to limit declines."
The 20-year JGB has been a bastion for domestic funds, banks and insurers trying to balance the need for yield with the desire for liquidity. The yield has rebounded since reaching a record minus 0.005 percent on July 6. It was at 0.085 percent on Wednesday in Tokyo, while that on the 10-year JGB was minus 0.275 percent.
The government's latest sale of 30-year bonds drew a bid-to-cover ratio of 2.64, the lowest figure since July 2015, suggesting weak demand. Japan plans to sell 20-year bonds on July 20.
To read about the JGB market's split personality, click here.
Japanese invested 13.2 trillion yen in overseas long-term debt in the first six months of the year, according to the Finance Ministry data. The previous record for a first half was 10.8 trillion yen in 2009.
'First Experience'
Some investors are coming up with ways to deal with low yields globally by increasing their scope for investments. Active money managers for Japan's National Pension Fund Association in April were allowed to expand holdings of non-sovereign debt, buy inflation-linked securities and have larger deviations from their benchmarks, according to Satoshi Tamagaki, director at its asset management department.
"It's the first experience and we had to do this to cope with low yields," Tamagaki said in a July 12 interview in Tokyo.
The hedged 10-year Treasury note yielded about 0.09 percent on Wednesday in Tokyo, while the nominal yield was around 1.49 percent from a record-low 1.318 percent reached July 6.
"Even if Japanese go overseas, they're not getting any yield, just risk," said Shuichi Ohsaki, the chief rates strategist at Bank of America Merrill Lynch in Tokyo. "It's becoming impossible to invest in bonds."
Before it's here, it's on the Bloomberg Terminal.
LEARN MORE