Merkel, Padoan Confident Italian Bank Crisis Can Be Averted
by , , and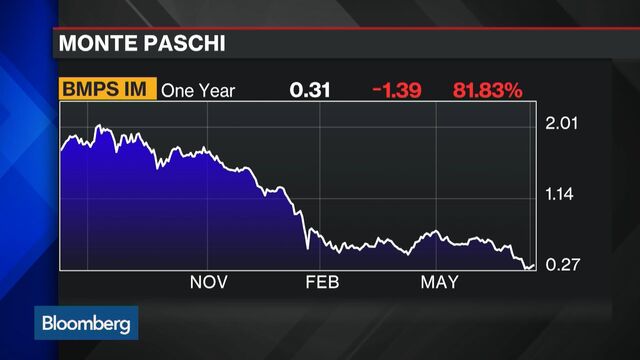 European leaders from German Chancellor Angela Merkel to Italian Finance Minister Pier Carlo Padoan signaled that a pragmatic solution to Italy's banking woes can be found within the boundaries of current rules.
"Intensive talks" are under way between Prime Minister Matteo Renzi's government and the European Commission, with European finance ministers also discussing the matter on Tuesday, Merkel told reporters in Berlin.
"I am very convinced that the questions that need to be decided there will be resolved in a good way," Merkel said. "I don't see any crisis-like development overall." Her comments sent the shares of Italian lenders higher, with Banca Monte dei Pasci Siena SpA soaring as much as 6 percent in Milan trading.
Italy is trying to shore up a banking system saddled with bad loans without breaching European Union rules that prescribe the bail-in of junior bonds. Monte Paschi's shares have lost more than 40 percent of their value since the Brexit referendum, sparking fears of a collapse that would reignite the euro-area crisis.
Speaking after two days of meetings with regional finance ministers in Brussels, Italy's Padoan said his government is looking to put instruments in place aimed at shoring up market confidence.
"A precautionary tool, I repeat, means something that is used only if needed," Padoan said at a press conference on Tuesday. "The goal is to support if necessary -- but I don't think this will be the case -- market operations that are already underway, in the direction in any case of a total protection of savers."
'Serious Disturbance'
Under EU rules, banks receiving state aid typically need to impose some losses on creditors, unless the intervention is done to remedy "a serious disturbance in the economy of a Member State and preserve financial stability."
The issue is made more complex for Italy by the fact that investment products such as subordinate bonds have often been sold to retail investors and the government is trying to shield them from losses. Padoan said the Italian government is working with the Commission to find a solution within the current set of rules.
Bail-in is "regulated by rules that also consider extraordinary situations," he said. "Any potential move or action by the Italian state will be completely within the rules."
German Finance Minister Wolfgang Schaeuble, while declining to prejudge the commission's decision in negotiations with Italy on precautionary measures, noted that the enforcer of EU rules has changed its stance in the application of state aid regulation. He added that he has "full confidence" there isn't a banking crisis.
Before it's here, it's on the Bloomberg Terminal.
LEARN MORE