Kuwait Plans to Sell Minority Stakes in Oil-Company Units
by and
Government needs four years to prepare IPOs: oil minister

Share sales to be part of wider economic reforms: minister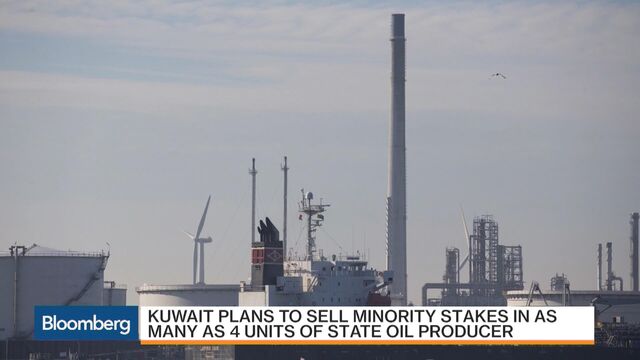 Kuwait is taking steps to sell minority stakes in units of the state oil producer as the Middle Eastern government plans to tap global capital markets for funds and improve efficiency in its most important industry.
The government has a four-year plan to organize and execute sales of shares in the international units and the shipping and chemical arms of Kuwait Petroleum Corp., Anas Al-Saleh, acting oil minister, said in a phone interview. KPC, responsible for the country's 3 million barrels of daily crude output, won't be part of the sale, he said.
Middle Eastern oil producers are seeking to diversify their economies and develop new sources of revenue after a supply glut triggered a plunge in crude to a fraction of its 2014 average of close to $100 a barrel. Saudi Arabia, the biggest producer in OPEC, plans to sell as much as 5 percent of the kingdom's state producer Saudi Arabian Oil Co. by 2018. Like Saudi Arabia, neighboring Kuwait is planning an economic overhaul that would involve cutting subsidies and selling some state assets.
"We are looking into privatization," Al-Saleh said. Kuwait is planning "definitely soon" to sell stakes of 20 percent to 30 percent in the oil units, he said.
Keeping Control

The government, which would keep majority control of the energy companies once it listed their shares, is preparing for the initial public offerings even as it studies in greater detail which businesses to sell and when, Al-Saleh said. He declined to specify dates for the IPOs or estimate how much money they would generate for the government, other than to say, "definitely we would not touch anything if it wasn't worthwhile.''
Kuwait Petroleum International, which owns refineries in Asia and the Q8 chain of filling stations in Europe, is among the candidates for sale. Others are Kuwait Foreign Petroleum Exploration Co., Kuwait Oil Tanker Co. and Petrochemical Industries Co., said Al-Saleh, who is also the country's finance minister.
Kufpec, as the foreign exploration unit is known, pumps oil and natural gas in 15 countries in Asia, Africa, Europe and North America, according to its website. The company aims to reach a daily output of 200,000 barrels of oil equivalent by 2020 and maintain that level of production until 2030, it said. Kuwait Oil Tanker's fleet includes 20 vessels for transporting crude and oil products, according to its website.
In addition to the KPC subsidiaries, Kuwait may consider selling shares in domestic power companies, the postal service, a phone company and local bus operators, Al-Saleh said. He said in an interview in May that the country planned also to issue international bonds and has started borrowing locally to cover the budget shortfall caused by lower oil prices.
Kuwait ranks along with the United Arab Emirates as the fourth-largest producer in the Organization of Petroleum Exporting Countries, data compiled by Bloomberg show.
Before it's here, it's on the Bloomberg Terminal.
LEARN MORE