Japan Keeps Markets Waiting on Fiscal Stimulus Details
by
Finance minister Aso says financing will come after specifics

Amid election victory Abe said he wants bold stimulus package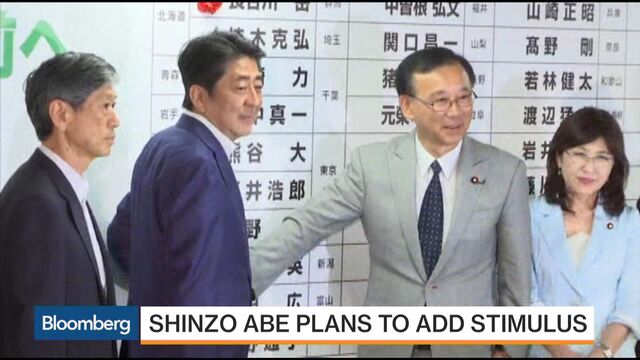 As the yen continued to weaken and Japan's Topix index capped its biggest two-day jump since February, Prime Minister Shinzo Abe's government kept markets guessing on the details of a much-anticipated fiscal stimulus package.
Japanese Finance Minister Taro Aso Tuesday said he'll consider the package as soon as it's ordered by Abe, with decisions on how it will be financed coming after spending details are hammered out. Speaking later on Tuesday, Economy Minister Nobuteru Ishihara said he'll compile stimulus measures later this month, making use of the low interest rate environment.
Ishihara said it's possible that Japan will issue construction bonds for the stimulus package. He said it's not desirable to issue deficit bonds for stimulus.
In a statement from Abe released by the Cabinet Office, the prime minister said he wants funding for stimulus to be discussed with Aso.
'Bold' Economic Measures
As his coalition was sealing a convincing majority Sunday night in Japan's upper house election, Abe repeated a pledge to stimulate a struggling economy, saying he wants "the swift formulation of comprehensive, bold economic measures." While he declined to comment on the amount or shape of fiscal stimulus, one of his advisers recently called for 20 trillion yen ($194 billion) to be spent in the current fiscal year.
Abe said Monday he'd order the compilation of a package on Tuesday, specifying spending on infrastructure, including high-speed railways and facilities at ports visited by cruise liners.
Masaki Kuwahara, senior economist at Nomura Securities Co. in Tokyo, said Tuesday that he thinks the size of a spending package may be about 10 trillion yen. He said he expects the government will work out details in early August and the fiscal package will be debated during the parliamentary session that may start in September.
"Given the yen's appreciation and uncertainties over an impact from the Brexit, there are downside risks to Japan's economic recovery," he said. "So, Abe's administration may make a judgment that a fiscal stimulus package of about 10 trillion yen may be needed."
Bernanke, Abe Meeting
Also on Tuesday, Abe met with former Federal Reserve Chairman Ben S. Bernanke in Tokyo. The prime minister said he he wants to "accelerate" the nation's exit from deflation, underscoring his commitment to implementing fresh stimulus.
On June 1 as he was announcing a delay to a planned sales-tax increase, Abe pledged to take "broad, bold" measures to support the economy.
Lower-than-projected tax revenue and a 778 billion yen aid package after a series of earthquakes in the Kumamoto area in April means there's not much leftover money in the budget to finance stimulus. The Ministry of Finance said funds remaining from fiscal 2015 leave about 250 billion yen available for additional spending. And the decision to postpone the consumption levy hike until October 2019 means that new sources of tax revenue are unlikely to appear in the near term.
Also Tuesday, when asked if he wants to continue as finance minister, Aso said he can't comment as he isn't responsible for appointing ministers.
Abe will reshuffle his cabinet in early August, Kyodo news reported Monday. One potential source of discord among senior LDP lawmakers eager for the spotlight could be the fact that Aso, Chief Cabinet Secretary Yoshihide Suga and Foreign Minister Fumio Kishida have held their positions since Abe took office in December 2012.
Before it's here, it's on the Bloomberg Terminal.
LEARN MORE