Honda's Heavy Rare Earth-Free Hybrid Motors Sidestep China
by and
China produces more than 80% of rare-earth minerals globally

Honda worked on alternative after China restricted exports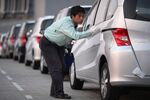 Honda Motor Co. said it's introducing a motor for hybrid vehicles that won't need heavy rare-earth minerals, as Japan's carmakers look to circumvent sourcing the materials from China.
Magnets developed by Daido Steel Co. without heavy rare-earth minerals will be used starting with the Freed minivan scheduled to begin sales this fall, Honda said in a statement Tuesday. Toyota Motor Corp. and Nissan Motor Co. have also taken steps to reduce their reliance on the materials after China restricted exports beginning in 2010 amid diplomatic disputes with Japan.
China accounts for more than 80 percent of global production of the group of 17 rare earths used in everything from smartphones to electric cars to cruise missiles. The scarcity of rare-earth metals and uncertainty of China's export policy are major concerns, Atsushi Hattori, deputy general manager at Daido's specialty steel solutions department, told reporters Tuesday in Tokyo.
The decision by China in 2010 to suddenly restrict exports sent users scrambling for supplies of lanthanum, neodymium, cerium and other rare earths. Major suppliers that have developed rare earth-free motors to reduce cost and reliance on China for procurement include Yasukawa Electric Corp., Mitsubishi Electric Corp. and Nidec Corp., according to Hiroshi Ataka, an analyst at IHS Automotive.
Honda First
Honda and Daido Steel said they're the first companies to introduce magnets with the high heat resistance required for use in hybrid vehicles that also contain no heavy rare-earth minerals. Honda rose 3.3 percent as of the midday trading break in Tokyo, while Daido Steel climbed 3 percent.
Toyota said in 2011 it was developing an alternative motor for future hybrid and electric cars that wouldn't need rare-earth minerals, while Nissan said it would try to cut back on their use and explore recycled materials.
Prices soared before posting steep declines in late 2011, after producers including Molycorp Inc. built up supply in California, Australia and Malaysia. Molycorp filed for bankruptcy in June last year.
Before it's here, it's on the Bloomberg Terminal.
LEARN MORE