Hedge-Fund Investors Dump Laggards, 84% Redeem in First Half
By
Study shows most redemptions tied to specific underperformance

Those who pulled expect to re-invest in other hedge funds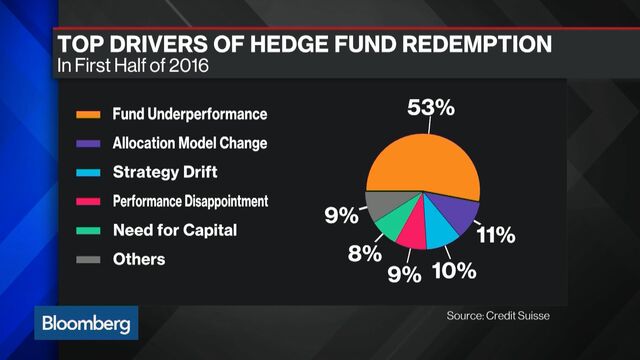 Running an underperforming hedge fund? Your clients are noticing.
Eighty-four percent of investors in hedge funds pulled money in the first half of the year, and 61 percent said they will probably make withdrawals later this year, according to a Credit Suisse Group AG study released Tuesday. The main driver among those who redeemed: their fund underperformed.
The survey, which polled more than 200 allocators with almost $700 billion invested in hedge funds, found that most were redirecting their money to other managers, rather than exiting the asset class altogether. Only 9 percent said they weren't planning to reinvest the money they pulled in other hedge funds.
"There is money coming out of hedge funds, but I would argue that right now it's being positioned on the sidelines to come back in for strategies and/or funds individually that are outperforming," Robert Leonard, global head of capital services at Credit Suisse, said in an interview on Bloomberg TV today.
Hedge funds, which charge some of the highest fees among asset managers, have been under fire after many failed to protect clients from violent market swings in the past year, sometimes amplifying losses instead by crowding into the same trades. Hedge fund manager Dan Loeb said earlier this year the business in general was in the first stages of a washout after a "catastrophic" performance.
"There is disappointment this year, but it has been building for a while," said John Dolfin, chief investment officer of Steben & Co, which manages $700 million and runs a fund-of-funds as well as two multi-manager funds. The firm redeemed from two hedge funds in the past seven months, he said.

Among the laggards are some of the world's largest firms. Lansdowne Partners lost nearly 14 percent this year through June 24 in its main fund. Bill Ackman's publicly traded Pershing Square Holdings Ltd. was down 23 percent as of July 5.
Funds including Martin Taylor and Nick Barnes's Nevsky Capital and Barry Wittlin's WCG Management liquidated, while Brevan Howard Asset Management and Tudor Investment Corp. were hit with investor withdrawals.
Aggressive Redemptions
Funds-of-funds and and family offices were redeeming most aggressively, while money from pensions, endowments and foundations was more sticky, the Credit Suisse Mid-Year Survey of Hedge Fund Investor Sentiment found. Ninety-one percent of funds-of-funds and 87 percent of family offices surveyed redeemed from managers this year, according to Credit Suisse.
Among endowments making changes are the University of Maryland and the University of California. Maryland is planning to cut its most expensive and worst performing hedge funds, while California's $8.8 billion endowment is reducing the number of hedge fund managers it invests in to 10 from 32.
Few allocators pulled money because they were unhappy with the performance of their hedge fund portfolio in general, the Credit Suisse Capital Services report found. More than 70 percent of hedge fund investors surveyed said they'll likely invest more in such vehicles over the next six months.
Dolfin at Steben & Co said he's seeing investors moving from funds that bet on rising markets to those that are market neutral, and less correlated to the ups and downs of the stocks and bonds.
He's not alone. Equity market neutral, long-short equity and global macro are the most popular strategies for new investments over the next six months, the report found.