Europe Stocks Rise as Earnings, Stimulus Trim Post-Brexit Losses
by and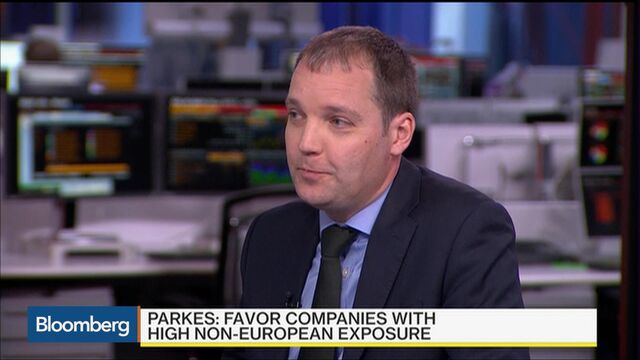 European equities rose to the highest level since the Brexit vote as Daimler AG's better-than-estimated earnings buoyed automakers and Japanese premier Shinzo Abe promised greater support to the economy.
The Stoxx Europe 600 Index advanced 1.1 percent to 336.26 at the close, reaching within 10 points of erasing its losses since Britons voted to leave the European Union. Sixteen of the 19 industry groups on the gauge climbed. Benchmark measures in Italy, Spain and France increased at least 1.6 percent each as investors speculated corporate earnings are robust enough to help equities weather the fallout from Brexit.
A strong start to the earnings-reporting season complements optimism that global policy makers will adopt looser monetary policy to prevent disruptions from political uncertainty in the U.K. While Abe is expected to unveil expanded stimulus measures, the Bank of England may cut rates this week, adding to the dovish stances of U.S. and European central banks.
"Brexit was something that affected the market more on a short-term basis," said Pierre Mouton, who helps manage about $9 billion at Notz, Stucki & Cie. in Geneva. "If we look at fundamental facts, the economic figures have been good, which helps the sentiment. We know central banks won't raise rates. There's some agreement to provide a backstop in case of panic and that's already a lot."

The Stoxx 600 trades at 14.8 times the projected earnings of its members, compared with a five-year average of 13. The measure is still down 8.7 percent this year.
In the U.K., Theresa May is set to take charge as prime minister after her rival pulled out of the race for premiership. Investors awaited details of her leadership team to gauge the extent of support the new regime will extend to businesses.
Daimler gained 4.4 percent as second-quarter results showed the company solidified its lead in the luxury-car market and posted better-than-estimated earnings despite more than 1 billion euros ($1.1 billion) in one-time costs. Goldman Sachs Group Inc. said the company's forecasts now look more achievable.
Italian banks led a gauge of peers to the highest level since June 23. UBI Banca SpA rallied 11 percent Banca Popolare dell'Emilia Romagna SC added 8.2 percent.
UniCredit SpA surged 13 percent after unveiling measures to boost its capital. Italy's biggest lender sold a 10 percent stake in FinecoBank for gross proceeds of 328 million euros ($365 million). Analysts said UniCredit's strategic initiatives will be a positive factor in their rating decisions.
ASOS Plc jumped 4 percent to a two-year high after reporting four-month sales that beat expectations and saying it anticipates full year sales growth at the upper end of the 20 percent to 25 percent range.
DNB ASA tumbled 7.6 percent, the most since April 2012, after the Norwegian lender posted second-quarter profit that missed expectations. The bank also said its impairment losses for 2016 will be probably higher than previously stated.
Before it's here, it's on the Bloomberg Terminal.
LEARN MORE