Emerging Stocks Advance to Eight-Month High on Stimulus Outlook
By and
China's benchmark gauge rallies amid state-support bets

Commodity-producing countries lead gains in currencies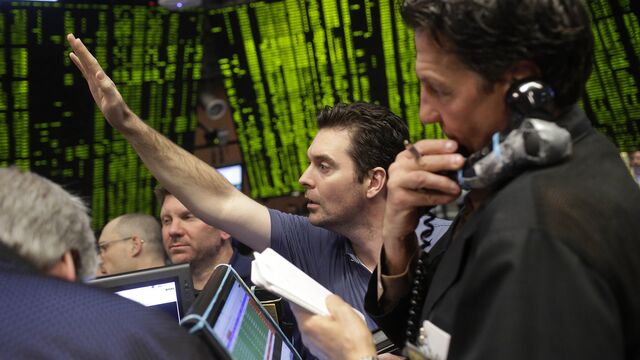 Emerging-market stocks rose the highest level since November and currencies extended gains on prospects for more stimulus from major central banks.
China's benchmark equity gauge rallied to a three-month high amid speculation state-backed institutions intervened in both the stock and currency markets. Thailand followed India into a bull market this week. Commodity-producing nations including Brazil and Russia led exchange rates higher as raw-material prices rose. The premium investors demand to own emerging-market bonds rather than U.S. Treasuries fell to the lowest level in almost a year.
Emerging markets rallied for a fourth day as Japan's Prime Minister Shinzo Abe pledged to speed up efforts to exit deflation, while traders bet there will be further monetary easing in the euro area this year to stem the fallout from Britain's vote to leave the European Union. In the U.S., investors predict a 35 percent chance the Federal Reserve will raise interest rates this year even after jobs data last week signaled a brighter economic outlook and helped send the S&P 500 Index to a record on Monday.
"It is risk-on in full swing," said Maarten-Jan Bakkum, a senior strategist at NN Investment Partners in The Hague, who favors Indian and Argentinian shares. "Investors are feeling more comfortable with the idea that the Fed will not hike in the coming quarters and that additional easing will come from Europe and Japan. If developed-market central banks ease policy because of DM problems, emerging markets should be able to outperform."
Brazil Rally
The MSCI Emerging Markets Index gained 0.9 percent to 854.08, rising for a fourth day. The gauge has advanced 7.6 percent this year, compared with a 1.7 percent gain for the MSCI World Index of developed markets.
The Ibovespa jumped 0.6 percent to the highest level in almost three months. Vale SA, the world's largest producer of iron ore, contributed the most to the Brazilian benchmark's gain, advancing 4.9 percent.
The Shanghai Composite Index jumped 1.8 percent, with most of its gains coming in late afternoon trading. China's pension funds, which have about 2 trillion yuan ($300 billion) for investment, may start to deploy some of their holdings in securities including equities in the second half, according to China International Capital Corp. and CIMB Securities. 
Thailand Bull Market
"It might be the national team coming in to buy up the stocks ahead of gross domestic product figures," said Francis Lun, chief executive officer at Geo Securities Ltd. in Hong Kong. "They may attempt to keep the Shanghai Composite above 3,000."
Thailand's SET Index rose 0.4 percent, extending gains from the low in January to 20 percent. India's S&P BSE Sensex Index rose 0.7 percent after entering a bull market on Monday.
The Borsa Istanbul 100 Index advanced 2.4 percent, rising for a second day, buoyed by a 5.2 percent jump in Akbank TAS. The Micex Index added 1.3 percent in Moscow.
The MSCI Emerging Markets Currency Index added 0.2 percent. The real strengthened 0.4 percent. The Mexican and Colombian pesos and South Africa's rand each added more than 0.5 percent.
Russia's ruble advanced 0.5 percent, reversing Monday's loss as oil, the country's biggest export, gained 4.8 percent to $48.47 a barrel in London. Crude prices rebounded from a two-month low as a weaker dollar boosted the appeal of commodities while further disruptions worsened supply problems in OPEC member Nigeria.
Bonds
The premium investors demand to own emerging-market bonds rather than U.S. Treasuries narrowed six basis points to 357, according to JPMorgan Chase & Co. indexes.
The global search for bond returns has pushed Ukrainian government debt to highs not seen since January 2014, as the country's three-year dollar notes fell below 8 percent on Monday. The bonds maturing in September 2019 yielded 7.92 percent on Tuesday.
The yield on Russia's 10-year local notes fell two basis points to 8.36 percent.
Indian bonds gained as speculation mounted that the nation's yet-to-be-named new central bank chief will be more aggressive in cutting interest rates. The yield on notes due in 2026 dropped five basis points to 7.34 percent.