Eaton Vance's Gaffney Joins Morgan Stanley in Warning on Bonds
By
Unwind in the Treasury market is going to happen, Gaffney says

Samsung Asset predicts slight upward pressure on U.S. yields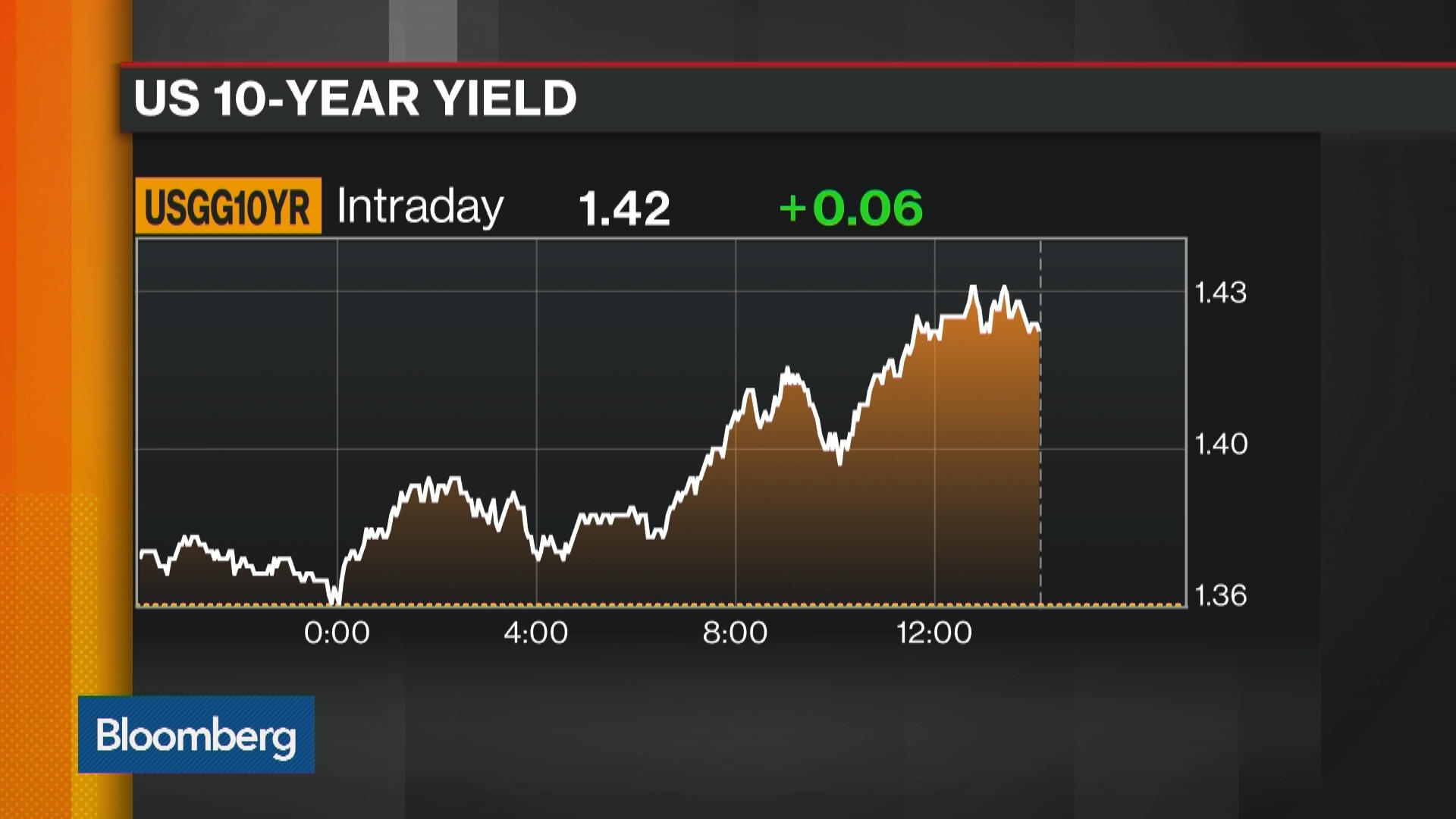 Kathleen Gaffney, whose Eaton Vance Bond Fund is beating all of its peers this year after rebounding from a loss, warned Treasuries may snap back from their record-setting rally.
Investors seeking alternatives to negative yields in Japan and Europe gobbled up Treasuries in June and July, sending 10- and 30-year yields to all time-lows. The U.K. vote to leave the European Union fueled the surge by driving money managers to the safest securities. Investors including Morgan Stanley and Bill Gross have warned the best part of the rally may be over.

"An unwind in the Treasury market" is going to happen at some point, Gaffney, who is based in Boston, said Monday on Bloomberg Television. "With everyone jumping on board with the yield grab, it's going to be really tough to get out at just the right time."
The benchmark U.S. 10-year note yield rose two basis points to 1.45 percent as of 6:58 a.m. in London, according to Bloomberg Bond Trader data. The record low was 1.318 percent set July 6. The price of the 1.625 percent security due in May 2026 fell 1/8, or $1.25 per $1,000 face amount, to 101 5/8.
Treasuries slid as U.S. prepared to sell $20 billion of 10-year notes Tuesday and $12 billion of 30-year bonds Wednesday.
Performance Turnaround
Eaton Vance Bond Fund has returned almost 13 percent this year, the top performance among its competitors, according to data compiled by Bloomberg. It fell 4.1 percent over the past 12 months, ranking near the bottom, Gaffney manages the fund with Henry Peabody, according to the Eaton Vance website.
Morgan Stanley, which advised investors to bet on bonds before the Brexit vote sent global debt markets surging, is cooling toward government securities. The bank revised its outlook after yields in the so-called Group of Four -- the U.S., Japan, Germany and the U.K. -- plunged to records last week.
"After having been bullish, we turn neutral on bonds as G4 yields sit at all-time lows," Morgan Stanley analysts including Matthew Hornbach, the head of global interest-rate strategy in New York, wrote in a report July 8.
'Too Risky'
Bill Gross, who built the world's biggest bond fund at Pacific Investment Management Co. and is now at Denver-based Janus Capital Group Inc., has a similar perspective. "The sovereign bonds are not up my alley," Gross said on Bloomberg Television last week. "It's too risky."
For more on how accurate strategists have been in predicting yields, click here.
Samsung Asset Management, which oversees $200 billion, may hedge some of its holdings in U.S. government securities by setting shorts in Treasury futures, said Wontark Doh, the company's head of overseas fixed-income investment in Seoul.
"There will be slight upward pressure on yields," Doh said. "The current level of Treasuries is very low compared to the fundamentals of the economy."
Before it's here, it's on the Bloomberg Terminal.
LEARN MORE