Clinton Lawyer Kendall Opposes Watchdog Group's E-Mail Probe
by
Judicial Watch already has public information, he says

Conservative group is seeking to question Hillary Clinton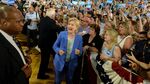 Hillary Clinton's longtime lawyer, David Kendall, told a judge that an advocacy group shouldn't be allowed to question the Democratic presidential candidate about her use of private e-mail servers when she was secretary of state because much of that information is already public.
Attorneys for the conservative watchdog group Judicial Watch last week told U.S. District Judge Emmet Sullivan they needed to query Clinton under oath even after interviewing seven past and present State Department employees. The group is pursuing records and information about top aide Huma Abedin's work for the department, the Clinton Foundation and an outside consulting firm in a Freedom of Information Act lawsuit.
In court papers opposing that deposition request, Kendall cited Clinton's testimony before a Congressional committee last year, a State Department Inspector General's report issued in May and comments made last week by FBI Director James B. Comey following a yearlong probe that ended without charges being filed. Judicial Watch's demand is "futile," Kendall said.
Questions Answered
"The record," Kendall said, "already answers those questions or makes clear that Secretary Clinton has no personal knowledge to provide."
Sullivan has scheduled a July 18 hearing in the case. In a May ruling authorizing the depositions of Clinton's aides, the judge made it clear the interviews were to ascertain whether the government had conducted an adequate search in response to Judicial Watch's records request and to explore the creation and operation of her e-mail system.
Lawyers for two more State Department officials, whose testimonies are now being sought, cited that narrow scope in their own filing on Tuesday opposing the group's request.
In a statement issued Tuesday, Judicial Watch said "it's no surprise" that Clinton and the State Department are opposed to its demand.
"What is notable is that the State Department finally admits that Clinton's practice of supposedly e-mailing other State officials using her non-state.gov account was not an 'appropriate method of preserving federal records of making them available for searches'," the group said.
The e-mail servers used to host Clinton's account are in possession of the Federal Bureau of Investigation, Kendall said. Documents contained on those devices were outside the State Department's possession and control when the group submitted its initial FOIA request, he said.
The case is Judicial Watch Inc. v. U.S. Department of State, 13-cv-1363, U.S. District Court, District of Columbia (Washington).
Before it's here, it's on the Bloomberg Terminal.
LEARN MORE