Carney Says Pound's Drop to 31-Year Low Aids Post-Brexit Economy
by and
Depreciation will help current account, economic adjustment

BOE speaks to lawmakers in Parliament on financial stability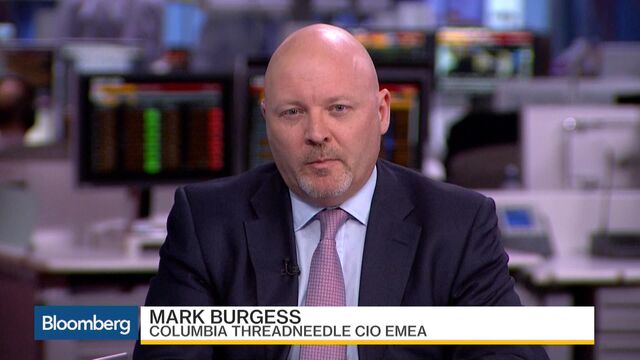 Mark Carney signaled he's comfortable with the pound's drop to a 31-year low, telling U.K. lawmakers the slide may aid an economy grappling with the impact of its decision to quit the European Union.
Testifying in parliament on Tuesday, the Bank of England governor said the currency's depreciation will shrink the U.K. current-account deficit and may also aid growth as the nation carves out a new relationship with its biggest trading partner. The central bank's Monetary Policy Committee is meeting this week and signs of an economic deterioration have already emerged, with a gauge of consumer confidence plunging the most in 21 years.
"The exchange rate is helping in this circumstance," Carney said. "There will be a new trading relationship, a new economic relationship" and "the exchange rate move can help with that adjustment."

The pound is 11 percent weaker than before the June 23 referendum, despite recovering some of its losses as Theresa May prepares to take over as prime minister, removing one of the layers of uncertainty shrouding the outlook. Sterling was at $1.3141 as of 2:12 p.m. in London, after sliding to $1.2798 last week, the weakest since 1985.
Rate Cut?
Should the currency stay at these levels it may help shrink the current-account deficit by about a third, as exports increase and the U.K. balance sheet improves, Carney said.
Still, the depreciation reflects how traders see the risks facing the economy and the prospect of looser monetary policy. Nearly three quarters of economists in a Bloomberg survey say the U.K. is heading for recession and investors are betting a rate cut could come as soon as the BOE's policy announcement on Thursday.
"This is flexible robust economy with a good financial system," Carney said. The pound's level "can help with the relative importance of the traded sector compared with the domestic, or non-tradeable, sector. Also the adjustment in the level of the currency will be a product of investor perceptions of risk and risk premia that will develop or not on U.K. assets."
While gilt yields at, or near, record lows suggest investors see 30 years of stagnation, that's mainly due to a hedging of downside risk, he said.
"There will be growth in this economy, without question," the governor said. Since the economy is "highly flexible" and has "tremendous strengths," he said.
Before it's here, it's on the Bloomberg Terminal.
LEARN MORE