BOE Rate Move May Push U.K. Lenders to Deepen Cuts, Raise Fees
By
Lloyds, Virgin among lenders facing squeeze on profitability

Investors pricing in 80% chance of rate cut on Thursday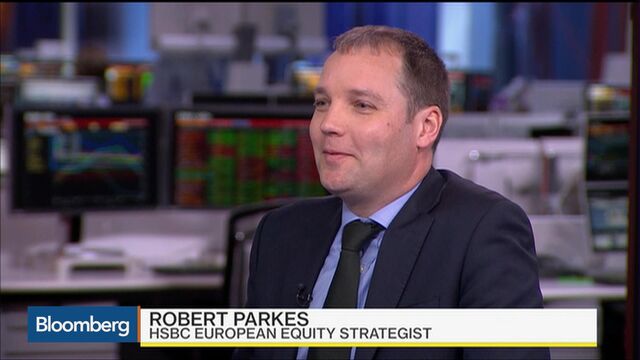 If Mark Carney feels pressure to cut rates, it's not coming from Britain's banks.
Banks could face a squeeze on their net interest margins, the difference between income from lending and borrowing costs, from such a move, which Bank of England Governor Carney has signaled is on the horizon. That effect is unlikely to be offset by more borrowing in an environment with lower consumer confidence and falling house prices, analysts, including Gary Greenwood at Shore Capital Group Ltd., said.
U.K.-focused banks including Royal Bank of Scotland Group Plc and Lloyds Banking Group Plc, are already facing pressure on margins and could be enticed to deepen cost cuts as interest rates languish for longer than expected. The central bank rate has been at a record low since March 2009 and investors are pricing in about a 80 percent chance of a rate cut on Thursday.
"All signals say yes, we will get a rate cut, and that is a negative for revenue margins," Greenwood said. "I wouldn't be surprised to see more announcements about general cost cutting in terms of headcount in the future."

Rebecca Harding, chief economic adviser at the British Bankers' Association lobby group, has urged the BOE not to cut rates, saying there's little evidence that lower rates have led to higher lending.
"Lower rates are unlikely substantially to increase lending: the immediate effect on the economy is also likely to be limited as a result," Harding said in a posting on the BBA's website.
Lloyds, Britain's biggest mortgage lender, would be most affected because the London-based bank has a 148 billion-pound ($192 billion) standard variable rate mortgage book of loans that would likely see a reduction in margins, Sandy Chen at Cenkos Securities Plc, said in a note to investors. The bank is already seeking to accelerate its cost-cutting plan and boost savings by another 20 percent to about 1.2 billion pounds, the Financial Times reported on Sunday.
RBS Chairman Howard Davies told investors at the Edinburgh-based banks annual meeting in May that "current market conditions are difficult for all banks" with expectations of low interest rates contributing to "disappointing" share price performances. The FTSE 350 Banks Index of Britain's publicly traded lenders is down 17 percent this year, with RBS down 39 percent.
Fresh Charges?
To mitigate reduced profitability on lending, banks could introduce charges for consumer checking accounts even when customers are in credit, according Ed Firth, head of European bank research at Macquarie Group Ltd. Lloyds and RBS "will have hedges in place, but one thing they may do is they may move more into fee structures," Firth said.
Even so, it would be difficult for banks to shift all of the impact from reduced margins on to clients while retaining their loyalty, according to Jonathan Tyce, a senior industry analyst at Bloomberg Intelligence.
"This is a competitive market," Tyce said. "We know that people tend not to switch their deposits anyway, but even so, they can't pass everything on."
Banks like Lloyds are ready to protect their interest margins by adjusting rates, even if it means losing market share, Tyce said. However, other banks like RBS are likely to be more aggressive in attempting to preserve their customer base.
Slim NIMs
Alan Beaney, investment director at RC Brown Investment Management said that though there may be pressure, banks such as London-based Barclays Plc, which reported a net interest margin of 4.2 percent last year, which excludes the investment bank and non-core divisions, will be better placed to withstand the effects of a cut. Lenders with slimmer margins such as challenger bank Virgin Money Holdings UK Plc could be in a worse position. Virgin Money posted 1.65 percent net interest margin last year, up from 1.5 percent in 2014, according to data compiled by Bloomberg. 

That compares with 2.63 percent for Lloyds, up from 2.45 percent in 2014, and 1.88 percent for HSBC Holdings Plc, down from 1.94 percent. These margins are slimmer than their U.S. competitors. Wells Fargo & Co. posted a net interest margin of 2.95 percent in 2015 while Citigroup Inc. posted 2.93 percent, according to company filings.
In the event of a rate cut, the action to be taken by U.K. banks "all comes down to whether the rates can be passed on to consumers or not," Greenwood said. "Cost cutting is most likely in the short term."