Dimon Wades Into Inequality Debate With a Raise for the Little Guy
by
JPMorgan's CEO wades into the debate over inequality

'Wages for many Americans have gone nowhere for too long'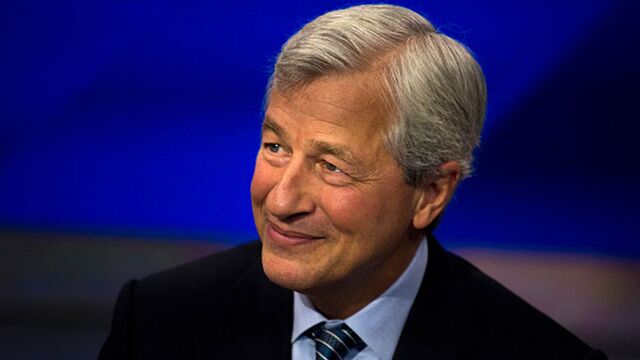 It is, in some ways, a microcosm of the United States, a realm of lofty pay for some and stagnant wages for many.
The place is JPMorgan Chase & Co., where Jamie Dimon, the chairman and chief executive officer, has now added his voice to the fraught national conversation about income inequality.
At a time when the gap between rich and poor looms large in U.S. politics -- and when a backlash against the global economic establishment is rattling the postwar order on both sides of the Atlantic -- Dimon went public Tuesday with a plan to give thousands of employees a raise.
In an opinion piece in The New York Times, Dimon said wage stagnation and income inequality were holding back millions of people. Even as big banks look to reduce pay for top earners, Dimon called on corporate America to help low-paid employees climb the economic ladder.
"Wages for many Americans have gone nowhere for too long," Dimon wrote.
For a QuickTake explainer on income inequality, click here.
For many, Dimon might seem an unlikely spokesman for hard-pressed workers. Last year, JPMorgan gave him a 35 percent raise, bringing his compensation to $27 million. His lowest-paid employees, by contrast, make $10.15 an hour.
Yet eight years after big banks were bailed out by taxpayers, slow growth and stagnant wages have undercut confidence in traditional economics. Populism has sprung up throughout the West, reflected both in Britain's vote to leave the European Union and the emergence of Donald Trump as the presumptive Republican nominee for the U.S. presidency.



Against that political backdrop, and given signs of tightness in the labor market, wages are slowly starting to move. Having held down wages for years or even decades -- after accounting for inflation, hourly pay at U.S. factories has stagnated since the early 1970s -- U.S. companies are nudging them up. Companies from Gap Inc. to Starbucks Inc. to Walmart Inc. have begun to raise compensation, albeit slowly in most cases.
Few U.S. companies run the gamut of wage inequality quite like big banks such as JPMorgan, whose 237,420 employees range from low-paid tellers to multi-millionaire investment bankers. On average, JPMorgan's 49,067 investment and corporate bank employees made $203,252 last year.
Bank Tellers
Others aren't so fortunate. A 2013 study from the University of California at Berkeley found that nearly a third of all U.S. bank tellers received some form of government assistance, such as food stamps and Medicaid.
Dimon, a billionaire who has fiercely defended Wall Street's post-crisis identity, wrote in the Times that it was time to give ordinary workers a raise.
Declaring that too many in the U.S. don't have "a fair opportunity to get ahead," Dimon, 60, is starting at home by promising raises for 18,000 employees, mostly tellers and customer service representatives.
By 2019, these workers will get $12 to $16.50 an hour, he said. Some of those raises might have happened anyway: the top rates are for those in high-cost cities including New York and San Francisco, where politicians have approved a $15 minimum wage by 2018.
Tight Market
Still, the development suggests that the groundswell to raise wages is spreading from retail and fast food into the bottom-rung of finance.
JPMorgan's move is "an indication of the tightness of the labor market," said Edward Yardeni, president of Yardeni Research.
"This is certainly good for workers," Yardeni said. "And any wage increase for low earners is going to get spent."
Nearing the twilight of his career, Dimon, perhaps the nation's most powerful banker, has taken to addressing what he regards as issues of national importance. He has spoken in the past about immigration and urban decay and, in Tuesday's opinion piece, singled out education as a significant issue facing the United States.
"About five million young people are neither working nor in school. Others are stuck in dead-end, low-wage jobs without the skills they can transfer to better paying careers. They lack the right education or credentials that will set them up for long-term success," Dimon wrote. "This is a national tragedy and an economic crisis."
Classroom Education
Dimon said JPMorgan was spending $200 million this year to train entry-level employees including tellers to take on higher-paying roles within the bank. It's also seeding 10 state programs with up to $2 million each to expand classroom education for well-paying jobs that don't require college degrees.
It is, perhaps, not an accident that those getting job training and raises are tellers and service representatives. They're the most vulnerable to being replaced by technological advances such as do-it-all automated teller machines like those flaunted by the bank at its February investor meeting. After growing their retail branches for decades, banks have been winnowing their physical presence as more customers get comfortable with mobile and online banking.
Still, other financial firms who employ lower-skilled works may follow suit, if only because they have to.
Jobless Rate
Labor shortages, which have been evident for some time for positions such as computer software developers, are starting to spread to those with lesser skills. The unemployment rate for those with a high school degree but no college credits was 4.8 percent in June, its lowest level in eight years and at the level policy makers reckon is equivalent to full employment.
As a result, wage growth is slowly starting to accelerate as the jobs market tightens. Average hourly earnings through the first six months of the year were up 2.5 percent from the like 2015 period. That compares with an average gain of 2.1 percent since the recession ended in June 2009.
Before it's here, it's on the Bloomberg Terminal.
LEARN MORE