U.S. Stock Rally Sputters as Crude Plunges; Bonds Rise With Gold
by and
S&P 500 adds less than half a point as energy shares drag

Asian index futures mixed following Japan-led recovery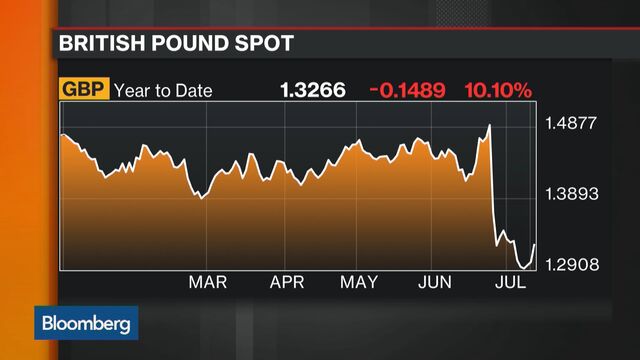 The S&P 500 Index eked out a third straight closing record, overcoming a drop in the price of oil that dragged energy shares lower as a let-up in political turmoil in the U.K. kept demand for risk assets alive. Metals advanced with emerging-market equities.
The U.S. benchmark rose by less than half a point after gains over the past two weeks restored almost $2 trillion to the value of stocks. Energy producers snapped a three-day climb as U.S. crude sank below $45 a barrel on an unexpected increase in fuel stockpiles. Treasuries rose following their biggest two-day decline this year, as the U.S. auctioned 30-year bonds at the lowest yield on record. Copper rose along with precious metals.

While calm has returned to global markets amid mounting confidence the vote for Brexit won't significantly impede growth, rallies in stocks and some commodities lost momentum Wednesday as investors looked for fresh signs that sluggish expansion isn't eroding corporate profits. America's largest lenders begin reporting earnings Thursday. Riskier assets had been in demand on speculation central banks will act to safeguard the global recovery, even as the U.S. economy shows signs of accelerating.
"You may see people profit-taking ahead of financial earnings, since we've had such a nice run over the last week and a half," said Stephen Carl, principal and head equity trader at Williams Capital Group LP. in New York. "If any situation occurs, whether it's corporate earnings or something political going awry, that could exacerbate a decline."
Stocks
The S&P 500 added less than 0.1 percent to 2,152.43 as of 4 p.m. in New York, closing at a record for a third straight day. So-called defensive groups that pay higher dividends climbed the most, with telephone, consumer-staples and utility companies rising at least 0.5 percent. Energy shares fell 0.7 percent as a group as retailers and technology companies also retreated.
The Stoxx Europe 600 Index slipped 0.1 percent, also taking a breather after the gauge came within 10 points of erasing its losses from after the U.K.'s June 23 referendum.
The MSCI Emerging Markets Index climbed 0.3 percent, with Hong Kong's Hang Seng China Enterprises Index up 0.6 percent in its third day of gains. China's exports and imports slipped in dollar terms in June as soft demand continued to weigh on trade.
Futures trading signaled a potentially mixed Thursday for Asia, following a Japan-led three-day climb in the region's equities. Contracts on the Nikkei 225 Stock Average slid 1 percent in Chicago, while separate futures on the Japanese stock index added 0.6 percent earlier in Osaka.
In Australia, futures on the S&P/ASX 200 Index were up 0.2 percent with those on the Kospi index in Seoul, while contracts on Hong Kong-traded shares fell.
Currencies
The yen climbed 0.2 percent to 104.49 per dollar, after sliding more than 4 percent over the previous two days. Prime Minister Shinzo Abe has ordered his economy minister to compile a package of stimulus measures this month, while the Sankei newspaper reported government officials are considering "helicopter money" as a policy option.
The pound retreated 0.8 percent to $1.314, halting a three-day advance. Theresa May took over as prime minister from David Cameron, ending a period of political instability that's endured since the U.K. voted to leave the European Union.
The Canadian dollar strengthened after the country's central bank left its benchmark interest rate unchanged, downplaying the impact of the Brexit vote and weaker U.S. demand. The loonie rose 0.5 percent to C$1.2978 per dollar.
The yuan added 0.1 percent to 6.6952 per dollar in offshore trading amid speculation Chinese policy makers are limiting the supply of the currency in Hong Kong to deter bets on its depreciation.
Commodities
Copper surged to its highest level since late April, briefly topping $5,000 a metric ton on expectations central bank efforts to spur economic growth will increase demand for metals. Iron ore traded on the Dalian Commodity Exchange retreated from its highest point since May.
Silver for immediate delivery jumped 0.9 percent, as gold stemmed a two-day retreat to advance 0.7 percent.
West Texas Intermediate crude sank 4.4 percent to $44.75 barrel, after jumping 4.6 percent on Tuesday, while Brent lost 4.6 percent to $46.26 in London.
U.S. gasoline supplies rose by 1.21 million barrels in the week ended July 8, Energy Information Administration data released Wednesday showed. Analysts surveyed by Bloomberg had forecast a drop of 1 million barrels. Demand for the motor fuel fell during the week that included the July 4 Independence Day holiday -- usually a peak consumption period -- as output increased.
Bonds
Yields fell across Treasury maturities as a gauge of demand at Wednesday's auction climbed to the highest level since September. Yields on notes due in a decade fell by four basis points, or 0.04 percentage point, to 1.48 percent. Rates, which sank to an unprecedented 1.32 percent a week ago, surged 15 basis points over the prior two sessions.
Pacific Investment Management Co.'s Total Return Fund increased its holdings of U.S. government debt to the highest in 18 months just as investors including Jeffrey Gundlach and Bill Gross turn cautious.
Germany's securities also halted a two-day decline, even as the nation auctioned 10-year debt with a negative yield for the first time. Yields are negative on around 38 percent of the $25.3 trillion of securities that comprise the Bloomberg Global Developed Sovereign Bond Index.
Before it's here, it's on the Bloomberg Terminal.
LEARN MORE