Asia's Budget-Airline King Splurges on Planes to Retain Lead
by and
AirAsia to expand with 100-A321neo, $12.6 billion Airbus deal

Tony Fernandes turned carrier around after 25-cent purchase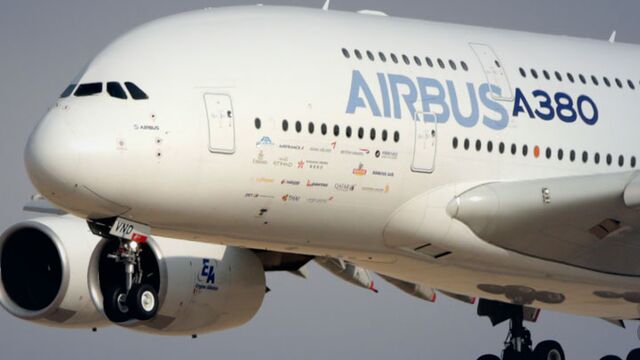 Earlier this year over Iranian food in London, Tony Fernandes was discussing the outlines of his most audacious aircraft purchase yet with two Airbus Group SE executives. When it came time to pay, neither of the planemaker's top brass had the required cash, so Fernandes picked up the tab.
Such loyal support for the European manufacturer has become a hallmark of Fernandes and AirAsia Bhd., the Malaysian discount carrier he built over the last decade and a half into the biggest operator of Airbus single-aisle aircraft. On Tuesday at the Farnborough Air Show outside London, the two sides announced a deal for 100 A321neo airliners, valued at $12.6 billion, by far the biggest purchase of this year's expo and comfortably nudging Airbus ahead of archrival Boeing Co. in the order tally.
The British-educated Fernandes, 52, has accomplished in Asia what Ryanair Holdings Plc did in Europe and Southwest Airlines Co. achieved in North America, said Brendan Sobie, a Singapore-based analyst at CAPA Centre for Aviation. The emergence of more budget carriers in Asia, following the success of AirAsia, has driven down fares and allowed more people to take to the skies, while economic growth has opened new destinations in countries such as China and India.
"His creation, AirAsia, has obviously fundamentally changed the industry," Sobie said. "There's been a huge structural change in the Southeast Asian airline sector because of AirAsia."
Shares Double
Fernandes has followed in the footsteps of his former employer and Virgin Group Ltd. founder, Richard Branson, and EasyJet Plc's Stelios Haji-Ioannou, the U.K. aviation entrepreneurs who built underdog empires to compete with state-run rivals.
Shares of AirAsia were unchanged Wednesday at 2.71 ringgit after climbing 3 percent the previous day, the biggest gain in three weeks. They have more than doubled this year as profit jumped sixfold in the first quarter. In comparison, Singapore Airlines Ltd., which reported a six-year-low yield from passengers in its latest earnings, has declined 2.4 percent, while Cathay Pacific Airways Ltd. stock in Hong Kong has slumped 10 percent.
For more Farnborough Air Show news, click here.
AirAsia carried 50.7 million people last year, 11 percent more than in 2014. The low-cost carrier had 170 planes in its fleet at the end of March, while AirAsia X Bhd., the long-haul service Fernandes started in 2007, operated 29, according to the company's website. They serve 123 airports with 987 flights a day.
It hasn't all been easy for Fernandes, who has built up AirAsia since he and partners bought it for 1 ringgit, or about 25 U.S. cents, in late 2001 and took on its 40 million ringgit ($10 million) in debt. In December 2014, an AirAsia plane with 162 people on board crashed into the sea en route to Singapore from Indonesia's Surabaya, an incident investigators said involved cracked soldering on an electronic rudder component and pilot errors in responding to the fault. Overcapacity and intense price wars have also weighed on earnings. AirAsia X reported losses in the last three years, fueling speculation it may be taken private.
"They had a very difficult couple of years, but their joint venture strategies in different countries are really paying off," Domhnal Slattery, chief executive officer of aircraft lessor Avolon, said Tuesday in an interview on Bloomberg Television.

Route Plans
The A321neos, which will carry as many as 240 seats, will be assigned to Hong Kong and Chinese and Indonesian destinations, Fernandes said in a Bloomberg Television interview at the Farnborough show. The company is also "very, very bullish on India," the CEO said.
"I'd love to have these aircraft now, to be honest" as traffic expands across Asia, Fernandes said. "People want to fly; the market is huge."
An all-Airbus fleet shows the close relationship Fernandes has developed over the years with Airbus, where it already had 380 planes on order before Tuesday's announcement. A big supporter of the Toulouse, France-based manufacturer's twin-aisle A330neo model, he bought 50 of the A330-900neo version at the 2014 Farnborough Air Show in one of its biggest deals. At a press conference to announce that purchase, business reserve gave way to raw emotion as executives of both companies exchanged kisses and man-hugs.
'Take a Punt'
"I never thought we'd get this big," Fernandes said in a separate interview on Tuesday. "I told Airbus to take a punt on me because if I get it right, the market is bloody huge. Everyone wrote us off this time last year. We kept on fighting."
Fernandes attended Epsom College, a U.K. boarding school, in the late 1970s. He was sent there at the age of 12 by his parents, who encouraged him to become a doctor. A homesick Fernandes wanted to return to Malaysia during his first Christmas vacation, a plan vetoed by his parents, who deemed the airfare too expensive.
Warner Music
After graduating in 1987 with an accounting degree from the London School of Economics, Fernandes worked as a financial controller at Virgin Media Communications Ltd. in London. He moved back home to Kuala Lumpur in 1992 to become general manager of Warner Music Malaysia. In 1996, he was promoted to vice president of Warner Music Southeast Asia.
In July 2000, Fernandes traveled to New York for a meeting over the merger of Time Warner Inc. and AOL Inc. and resigned because he didn't believe the combined company would succeed. That year, he sold his Time Warner stock options at $80 a share. In 2009, Time Warner spun off AOL as a separate company after record losses.
Fernandes applied to become an overseas citizen of India earlier this year, a status that may allow him to fully own his local unit, skirt rules that restrict foreigners and expand services. He has a venture with Tata Sons Ltd. in that country.
"Like him or loathe him, Tony Fernandes and his partners at AirAsia have revolutionized discount travel and made the business and industry in Southeast Asia more exciting and fun," said Shukor Yusof, founder of aviation consulting firm Endau Analytics. "By virtue of AirAsia being the first LCC in Southeast Asia and now the biggest in the region, Fernandes has positioned himself as the playmaker of discount flying."
Before it's here, it's on the Bloomberg Terminal.
LEARN MORE