Wanda's AMC to Buy Odeon in Global Push, Leaving Carmike Waiting
By and
Odeon buy is first billion-dollar U.K. asset deal since Brexit

AMC willing to work With Carmike on deal, balks on $40 a share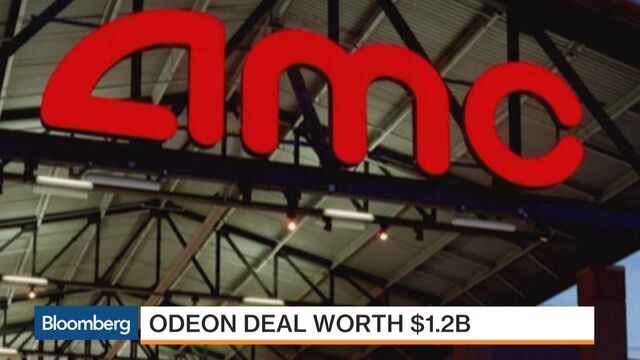 AMC Entertainment Holdings Inc.'s $1.2 billion purchase of Odeon & UCI Cinemas Group extends Chinese billionaire Wang Jianlin's movie-theater empire into Europe while leaving open the fate of its deal for the No. 4 U.S. chain Carmike Cinemas Inc.
"We have not even made a decision yet whether we will increase at all," Adam Aron, chief executive officer of AMC Entertainment, said Tuesday in a telephone interview. "But what we are going to do is get in dialogue with Carmike and see if the deal can be salvaged."
The acquisition of London-based Odeon & UCI widens the lead of Wang's Dalian Wanda Group Co. as the world's No. 1 operator of movie screens while easing pressure on the company's U.S.-based unit, AMC, to complete its deal for Carmike. Even with Odeon & UCI in the fold, Aron said he has the financing to buy Carmike and is willing to negotiate. He just won't pay what some Carmike investors have demanded.
QuickTake China Inc.'s Shopping Spree
"There is only one thing that I am certain of in life, they are not going to get $40 a share from AMC," Aron said in the interview. The deal gets "marginal very quickly" for Leawood, Kansas-based AMC above the $30 threshold, he said earlier. "The Carmike shareholders are going to have to want this transaction to occur."
Shares of Carmike, based in Columbus, Georgia, rose as high as $30.79 following Aron's comments, before closing up 2.2 percent to $30.39 in New York. AMC surged 7.3 percent to $29.80, the biggest single-day advance since Feb. 16.

Carmike's two largest shareholders -- Mittleman Brothers LLC and Driehaus Capital Management LLC -- oppose AMC's $30-a-share bid. Including recent purchases, they own about 20 percent of the company, according to data compiled by Bloomberg.
Two shareholder advisory firms, Glass Lewis & Co. and Institutional Shareholder Services Inc., have also come out against the transaction, saying the $1.1 billion deal undervalues Carmike.
For a QuickTake Q&A on the AMC-Odeon deal, click here
Chris Mittleman, chief investment officer for Mittleman Brothers, Carmike's second-largest shareholder, said the terms of the Odeon deal confirm that AMC's offer undervalues Carmike. On that basis, the company is worth $47.69 a share, he said in an e-mail.
Anything less than $40 a share would be a "travesty of fairness," Mittleman said.
Flawed Assumptions
Aron said Mittleman's valuation assumptions are flawed.
Carmike holders are slated to vote July 15 on AMC's $30-a-share buyout offer after an earlier vote was adjourned. Aron said Tuesday that AMC is prepared to walk away and may not look for another takeover target.
"I don't know that we are rushing out to find some replacement for Carmike because there is a void," Aron said. "I actually think the void for Carmike has been filled by Odeon UCI."
AMC is the No. 2 chain in the U.S. behind Regal Entertainment Group. A purchase of Carmike would push the company to No. 1 and increase revenue by about 27 percent. Odeon & UCI would add about 40 percent. AMC has 5,380 screens in 385 locations, while Carmike has 2,938 screens in 273 theaters and Odeon & UCI operates 242 theaters with 2,236 screens.
With the Odeon & UCI deal, Piper Jaffray Cos. analyst Stan Meyers sees more risk of the Carmike agreement falling apart, according to a note Tuesday. Based on Aron's comments during a conference call, AMC may be willing to increase its bid and potentially throw in some equity, though not what Carmike stakeholders have sought, he wrote.

The purchase of Odeon, which operates screens from the U.K. to Spain and Germany, marks the first billion-dollar sale of a U.K. asset since the Brexit vote. A sale lets Guy Hands's Terra Firma Capital Partners Ltd. exit from the business after a number of unsuccessful divestment attempts that date back to 2011.
The June 23 Brexit vote has caused the pound to drop against the U.S. dollar, making U.K. assets cheaper for overseas investors. Wanda, in a statement, cited Brexit for the breakthrough in its three-year negotiations toward a deal.
"While there is increased uncertainty and increased risk, it is also true that the pound fell to a 30-year low," Aron said. "And so the acquisition is considerably cheaper in U.S. dollars." Using stock also helped close the deal, he said.
Fears of a U.K. recession didn't deter AMC either, Aron said. The company researched what happens to movie-theater circuits in the U.S. and in Europe during different economic cycles.
"The movie theater business is pretty recession resistant," he said.