Amazon Says 'Prime Day' Sales Up 30 Percent for Merchants
by and
International demand helps boost sales on second promotion

Company says problem with 'Lightning Deals' was resolved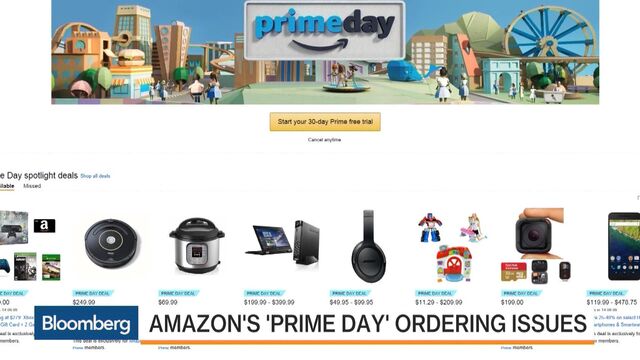 Amazon.com Inc. said Prime Day sales from third-party merchants surged 30 percent compared with a year earlier, fueled largely by international demand.
While U.S. sales appeared to start slowly on Tuesday, hampered by technical glitches, the world's largest e-commerce company built momentum on the summertime promotion it created last year to entice shoppers to subscribe to its $99-a-year Amazon Prime membership.
"Led by strong growth internationally, we are seeing more than 30 percent increase over last year in the number of items sold by small businesses and sellers on Prime Day," Amazon said in an e-mail, reflecting sales as of 3 p.m. New York time. "We are expecting a record day for small businesses and sellers on Amazon with many more deals to come today."
ChannelAdvisor Corp., a North Carolina firm that helps 3,000 merchants sell on online marketplaces such as Amazon, said that as of 5 p.m. New York time, its customers were experiencing similar U.S. sales to the first Prime Day last July. Third-party sales in the U.K. gained 12 percent from a year earlier. ChannelAdvisor Chairman Scot Wingo said he expected U.S. sales to pick up because Amazon ran out of inventory early last year and appeared to be pacing the deals to last through the day this time.
"Last year was very door-busterish and the deals ran out early," Wingo said.
Amazon created Prime Day last year, but some shoppers were disappointed that inventory ran out quickly and the company offered deals on obscure items such as shoe horns and food containers. Analysts credited the event with boosting sales and building a strong foundation for the 2015 holiday shopping season.
Bigger Deals
The company this year offered more deals and deeper inventory. It relied on thousands of third-party merchants who sell goods on Amazon and give the company a cut of each sale to boost the number of deals. More than 2 million third-party sellers use the website.
"Amazon learned a lot from last year's stock-outs in terms of planning for the event this time around," said Colin Sebastian, analyst at Robert W. Baird & Co. "In addition, Prime membership continues to grow, which helps feed a larger number of shoppers onto the site and mobile apps."
Amazon also used Prime Day to push shoppers beyond physical goods by offering discounts on housecleaning through Amazon Home Services, restaurant delivery in several cities and on-demand video rentals for movies such as "Kung Fu Panda 3" and "Deadpool." Hot-selling items on Tuesday included pressure cookers and iRobot Roomba vacuums, according to the company.
The event highlights the benefits of Prime membership, such as free two-day shipping on many items, which converts the occasional Amazon shopper into a devotee. Prime subscribers spend about $1,200 annually on the website, compared with $500 for non-subscribers, according to Consumer Intelligence Research Partners in Chicago. Amazon had 63 million Prime subscribers as of June 30, an increase of 43 percent from a year earlier, according to the research firm.
Early Issues
Amazon confirmed technical problems before 9 a.m. New York time, six hours after its 3 a.m. kickoff. A few hours later, company spokeswoman Ana Rigby said in an e-mail that the issue involving Lightning Deals had been resolved.
Shoppers vented their frustration on social media using the hashtag, #PrimeDayFail, with many saying they couldn't add items to their digital baskets.
"@Amazon my cart continues to fail. Very disappointed. There are some great deals that I'm missing. #PrimeDay #PrimeDayFail #AmazonPrimeDay," wrote Giselle Mazur in a Twitter post.
Still, the social media reaction was more positive this year than last, according to Adobe Digital Insights, which monitored Prime Day buzz through Twitter, Instagram, Reddit and other sources. Sadness associated with the event was down from a year ago while joy, admiration and surprise all increased.
"People seem to be happier overall," said Becky Tasker, manager at Adobe Digital Insights.
'Tremendous Demand'
James Cakmak, an analyst at Monness Crespi Hardt & Co., estimated, based on last year's success, that the early technical difficulties wouldn't hamper sales for too long.
"You have a perfect storm heading into the day, and while technical difficulties may get in the way in the short term, it shouldn't affect revenue," Cakmak said.
Mike Pachter, an analyst at Wedbush Securities Inc. in Los Angeles, said the problems indicated Amazon was seeing tremendous demand from shoppers.
"The biggest cloud manager on the planet having issues? That's a testament to high demand and high expectations for reliability," Pachter said in an e-mail.
The company's shares fell less than 1 percent to $748.21 at the close in New York. They have climbed 11 percent this year.
Before it's here, it's on the Bloomberg Terminal.
LEARN MORE