A Japan Cynic Turns Stock Believer Again After Abe Election Win
by , , and
Nader Naeimi is long the Topix, short the yen after vote

The AMP Capital investor gave up on country earlier in 2016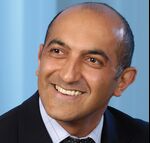 Nader Naeimi, who gave up on Japan at the start of the year, says he's turned bullish again.
Naeimi, who heads a dynamic investment fund for $121 billion asset manager AMP Capital Investors Ltd., has been buying Japanese stocks and shorting the yen since Prime Minister Shinzo Abe's commanding victory in upper-house elections on Sunday. His logic is that Abe's win sets the stage for aggressive fiscal stimulus, and with valuations down at levels before the premier came to power, the market is ripe for a rally.
"We are back in Japan," Naeimi said. "It feels like 2012 again."
The benchmark Topix index has surged 8.1 percent over three days after the election gave Abe's ruling coalition a majority in both chambers, a result that had been widely expected. While bears say the rally is an over-reaction and hurdles remain high to reviving a stagnant economy, bulls say the premier's stronger backing means he can add to easing while pushing through reforms he'd been reluctant to pursue.
"Abe's win this weekend paves the way for an aggressive fiscal policy support," Naeimi said.
Early Buyer
Naeimi was an early buyer in the Abenomics rally. He piled into stocks and shorted the yen in November 2012 as Abe looked set to win power on a platform of monetary easing, fiscal spending and structural reforms. The following April, the Bank of Japan boosted bond-buying to unprecedented levels, sending the Topix to a five-year high in August and the yen plunging.
Naeimi remained a bull until earlier this year, when the BOJ's decision to adopt negative interest rates exacerbated a stock rout. Getting out was wise, as the Topix had lost 22 percent this year by the end of Friday, while the yen surged 20 percent against the dollar. The Topix traded at 12.4 times estimated earnings on Friday, near its lowest level since October 2012.
While bears say that's proof Abenomics has failed, for Naeimi it just means shares are cheap. The Abe government is an outlier with its aggressive growth strategies, Naeimi says. With control of both houses of parliament, Abe can move forward with economic reforms that were difficult to push past vested interests, according to Toru Ibayashi, head of Japanese equities at UBS Group AG's wealth management unit in Tokyo.
Abenomics Revived
"Abenomics will continue," Ibayashi said. "The political foundation has improved and we're now seeing expectations that a lot more will be done. Foreign investors had zero hopes for Japanese stocks and had washed their hands of them, but I think they'll come back."
As his coalition was sealing a majority in Sunday's elections, Abe took to national television to repeat his pledge for bold economic measures. He ordered the preparation of a fiscal stimulus package, with one of his advisers calling for it to be as much as 20 trillion yen ($192 billion). But as inflation disappears and growth whipsaws, Abenomics skeptics say monetary easing and fiscal steps alone won't be enough: structural reform is still lacking.
"The weaker yen and the talk of fiscal stimulus are giving Japanese equities a short-term boost," said Hans Goetti, the Dubai-based chief strategist for the Middle East and Asia for Banque Internationale à Luxembourg, which manages $40 billion. "I'm not sure if this is sustainable. The most important part of Abenomics is economic reforms and that will take a long time to implement."
Rally Unsustainable
Others agree, expecting declines after the Topix posted its biggest two-day gain in almost five months. Sentiment is too fragile, says Yoshihiko Tabei, a senior analyst at Naito Securities Co.
"My gut feeling is we've surged too much," Tabei said. "The Japanese market will be heading into a three-day weekend, and the U.K. has shown some signs of calming, but if shares in New York fall, investors will be aware of how much Japanese stocks surged and the yen weakened in a short period."
Most of the advance can be attributed to investors covering short positions, says Amir Anvarzadeh, Singapore-based head of Japanese equity sales at BGC Partners Inc. Bearish bets on the Topix rose to 44.1 percent of the value of shares traded on Friday, close to the record 47.1 percent level reached last month.
Naeimi, who prides himself on being a contrarian, says that's a positive sign.
"Global skepticism on Abenomics is very high," Naeimi says. But "I think there's another chance."
Before it's here, it's on the Bloomberg Terminal.
LEARN MORE