Weakling Profit Recession Is Why Nobody Pulls Cord on Stocks
by
S&P 500 earnings poised to match the longest slide since 1936

Yet peak-to-trough decline is nowhere near recession average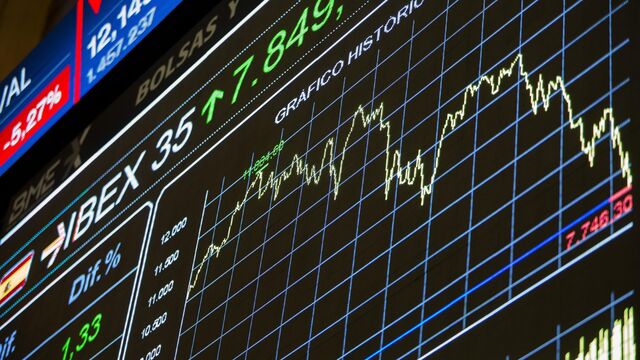 The U.S. earnings recession waylaying the seven-year-old bull market has been a long one by any standard. Measured by depth, however, it isn't registering -- either with history or investors.
Quarterly profits in the S&P 500 Index are about to fall again, extending a streak of declines poised to match the longest earnings retreat on record, data compiled by S&P Dow Jones Indices and Bloomberg show. At the same time, net income in the gauge is down 18 percent from its 2014 high -- a retreat that is less than half the size of the last three drops and pales next to the 28 percent average in recessions since 1936.

While the lack of profit growth explains why the S&P 500 struggled to advance for more than a year, the less-heralded shallowness of the decline is key to understanding the market's resilience. The equity benchmark just closed at an all-time high after posting a second week of gains following the Brexit selloff and recovering from two separate 10 percent corrections in 10 months.
"Recession by itself scares people, but the shallowness shows this isn't a leveraged recession -- you don't have the global contagion of Lehman issues," said Matt Lloyd, chief investment strategist at Advisors Asset Management, which oversees $16.5 billion in Monument, Colorado. "It's OK to call it a profit recession, but you have to understand an economic recession is less likely."
Profit Confidence
Investor faith that earnings will rebound is visible in another market metric, valuations, which have widened as the profit recovery was repeatedly pushed back. At 25 times reported profit using standard accounting, the S&P 500 trades at a higher multiple than it has 90 percent of the time in the past eight decades. The average ratio is 17.
U.S. stocks rose last week as government data showed American companies added more jobs than economists forecast in June, reinforcing optimism that the world's largest economy can weather a global slowdown. The S&P 500 climbed 0.3 percent to 2,137.16 at 4 p.m. in New York, after spending more than 13 months trading below its all-time high of 2,130.82 reached in May 2015.
Based on profit calculated under generally accepted accounting principles, S&P 500 companies have posted negative growth for six straight quarters, a stretch that's been exceeded only once since 1936. That was the seven-quarter slump of the 2007-2009 recession.
Analyst Estimates
While the duration is almost unprecedented, the decrease in 12-month income from $106 a share in September 2014 to $86 in March this year is well short of what happened during the worst recessions. In four instances, S&P 500 profit slumped from peak to trough by at least 36 percent, a rate that's double the current pace.
Analysts projected earnings excluding some items for the S&P 500 to drop 5.7 percent in the second quarter after slumping 6.7 percent in the first three months of the year. Companies are expected to boost profits in the second half, with income jumping 14 percent next year to $133 a share. Should that level be achieved, it would exceed the annual record of $119 reached in 2014.
"We're muddling through there, waiting for an inflection to occur in earnings," said Andrew Hopkins, director of equity research at Wilmington Trust Co., which oversees about $70 billion. "Hopefully we'll see that toward the end of the year."
Earnings sentiment has improved as the dollar stabilized and oil rose. Prospects for energy companies have stopped getting worse after crude staged a 85 percent rally from a 12-year low of just above $27 a barrel in February, though the price remains 57 percent below its peak in 2014. The dollar, whose 25 percent jump from mid-2014 to January weighed on sales for multinational firms, fell in June for the fourth month in five. 
Income Boost
The reversal in oil and the dollar, along with rising exports and falling interest rates, could add as much as $26 a share in S&P 500's profit over the next 12 months, according to Tom Lee, managing partner of New York-based Fundstrat Global Advisors LLC.
It's too early to sound all clear as U.K.'s decision to leave the European Union may cause trouble for companies in coming quarters, according to Savita Subramanian, an equity strategist at Bank of America Corp. The firm last week cut its S&P 500 profit estimates by 3 percent in 2016 and 2 percent in 2017.
"Now that Brexit is a reality, companies with European/U.K. exposure might guide down on expectations of weaker European growth, a stronger U.S. dollar and overall uncertainty, and capex guidance may similarly falter," Subramanian wrote in a July 6 note to clients. "We remain near-term cautious as the market is likely already anticipating an earnings rebound," she said. "Brexit could spell risk ahead."
Concentrated Decline
Unlike the last recession where the earnings slump was spread across almost every industry, the one going on now is centered on the commodity space. Twelve-month income from energy producers have plunged by $189 billion since 2014, compared with $187 billion in lost profit for the whole S&P 500 universe. Should the industry be excluded, profit would've actually risen by 0.2 percent.
Holding up earnings are consumer discretionary and health-care companies, which have expanded profit by at least 11 percent. Banks also contributed, with income climbing 6 percent.
"The fact that so much of this is concentrated on energy, investors are looking through it a bit," said Tom Anderson, chief investment officer for Boston Private Wealth, which oversees $7 billion. "The economy is solid, employment has improved. When you factor in economic data we're seeing, earnings should start moving higher and we should see the benefit for investors."
Before it's here, it's on the Bloomberg Terminal.
LEARN MORE