S&P 500 Rises to All-Time High on Growth Optimism, Stimulus Bets
by
Friday's jobs report allays concerns spurred by dip in hiring

Benchmark settles above its prior closing and intraday records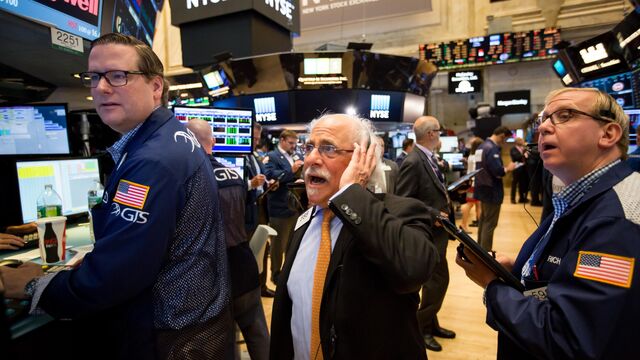 U.S. stocks climbed, pushing the benchmark S&P 500 Index to an all-time high, extending a rally from Friday when a better-than-forecast jobs report brightened the economic outlook without fueling expectations that the Federal Reserve will raise interest rates sooner.
The S&P 500 added 0.3 percent to 2,137.16 at 4 p.m. in New York, surpassing the prior intraday record set in May 2015. The index had spent 285 days trading without making a fresh record, the longest stretch outside a bear market since a 323-day drought in 1985. The Dow Jones Industrial Average rose 80 points, or 0.4 percent, to 18,226.93 today, less than half a percent away from the all-time high it set last year. 
The June payrolls data calmed concern brought about by the previous month's report that showed hiring had slowed to the weakest pace since 2010. The latest figures may convince investors that the economy will continue to expand in the face of weaker profits and Britain's vote to leave the European Union. Further reassuring investors, the Bank of England and the European Central Bank have said they'll act to arrest any fallout of Brexit, and a victory for the ruling party in Japan cleared the way for stimulus.
"Momentum is in play here, so as we look to break above new highs, that'll get people to jump on the bandwagon," said Matt Maley, an equity strategist in New York at Miller Tabak & Co LLC. "Investors are thinking they have to jump on board before the train leaves the station. The huge amount of uncertainty brought by the Brexit vote will keep the Fed from acting this year, which is helping stocks avoid some selling."
The S&P 500 advanced 1.5 percent on Friday. The gains restored $1.4 trillion of market value that was erased after the U.K. voted to leave the EU on June 23. Before the payrolls figures, a report Wednesday showed service providers expanded in June at the fastest pace in seven months and Fed minutes indicated less urgency in the need to raise interest rates.
Even as the latest bout of global anxiety eased, the CBOE Volatility Index edged higher by 2.6 percent to 13.54. The measure of market turbulence known as the VIX sank 11 percent on Friday, capping the first back-to-back weekly declines since April. 
Investors also turn their focus on earnings with Alcoa Inc.'s quarterly release. The 128-year-old aluminum producer reported earnings after the close on Monday that exceeded analysts' estimates after profit from its car and jet parts businesses offset declines in prices for the metal. Profit excluding one-time items was 15 cents a share, beating the 9-cent average of projections. Shares rose 4 percent in late trading.
For the broader S&P 500, company analysts currently predict combined profits will drop 5.7 percent, which would make it the fifth straight quarterly decline, the longest streak since 2009.
The rally in 2016 has been led by industries often considered "defensive." Utility and phone companies are up the most this year, posting advances of at least 20 percent, with utilities reaching a record last week. Trading on Monday didn't fit that trend, as seven of the S&P 500's 10 main industries rose with cyclical groups like technology, financial and industrial companies leading gains.
Technology shares rose for a fourth day to the highest in a month. The group was boosted by semiconductor companies, including Qorvo Inc. and Skyworks Solutions Inc., which added more than 2.7 percent.
Meanwhile, Twitter Inc. slipped 2.1 percent after its rating was lowered to neutral from buy at SunTrust Robinson Humphrey. The firm said Twitter is "highly unlikely" to be bought this year.
Energy companies in the S&P 500 advanced. Gas-pipeline owner Kinder Morgan Inc. increased 3.7 percent after selling a 50 percent stake in a 7,600-mile network to utility owner Southern Co. for about $1.5 billion. Southern slid 0.7 percent.
Thomson Reuters Corp. rose 1.4 percent after agreeing to sell its Intellectual Property & Science division to Onex Corp. and Baring Private Equity Asia for $3.55 billion in cash, shedding the unit to focus on its core financial products.
C&J Energy Services Ltd. dropped 11 percent after the company said late Friday it has entered into a restructuring agreement with key creditors.
Before it's here, it's on the Bloomberg Terminal.
LEARN MORE